Do You Want to Run a Fast _______?:
13.1
Thirteen Point One Miles
69,168 Feet
23,056 Yards
21.08 Kilometers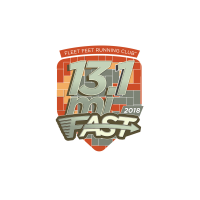 Our
Fast
program is for experienced half marathoners who have made the transition from completing to competing.  Program applicants are first assessed by our professional coaches and - if they have the foundation needed to train to race 13.1 miles under in 2¼ hours (10:30/mile long run training pace) or faster - are accepted into this positive, driven training environment.  13.1mi Fast participants receive the perks of the
13.1mi Finish Program
plus customized schedules based on one-on-one assessments and additional group speed workouts.  


When you join our 13.1mi Fast Program, you will...

join us for a Club meeting, Saturday, January 19th, 7:30am, at the Forest Park Visitor Center.    
travel to the best St. Louis paths, Saturday mornings, 7:30am.  
perform track workouts, Tuesday evenings, 6:30pm, at Parkway Northeast Middle School.  
complete pace/tempo runs, Sunday mornings, 7:00am at Forest Park Visitor Center.  
Our three weekly workouts will include one of the following:  
Long Runs | Long runs are the keystone of training, designed to tap into our aerobic training zone.  This zone helps the body utilize greater fat burning and increases our capillaries (in both number and size).  Our aerobic zone is a very easy conversational pace.  This should not be a huff and puff effort.  It is really about time on feet and putting your body into motion for a prolonged period of time. The suggested pace for long runs is 10-20% slower than your goal marathon pace. 
V02 Max Workouts

 

| VO2 max (aka maximal aerobic capacity) is the highest rate at which your body can transport oxygen to your muscles, which your muscles can then use to produce energy aerobically. VO2 max is an excellent predictor of running performance for races of 1500 meters to 5K and a significant contributor (along with other factors such as lactate threshold pace) to performance for longer races.
Lactate Threshold Workouts

 

| Lactate threshold is defined as the fastest pace you can run without generating more lactic acid than your body can utilize and reconvert back into energy. By running just below your lactate threshold you can begin to decrease (or improve, depending on how you look at it) the pace at which you begin to produce too much lactic acid for your body to manage.
Speed | Quick leg turnover for 50-150 meters. The goal of these is to improve leg speed and to help any lingering form issues.
Marathon Pace | Running at your goal pace is the only way for your body to get the physiological practice it needs. These runs can serve as great confidence boosters and are scheduled on medium long, or long run days.
Recovery | Shorter and relaxed runs that aid in recovery. These are the slowest and most restorative of runs.
Fleet Feet Running Club 13.1mi Fast Membership Cost:  $252
Your 13.1mi Fast Membership will run January 19th through April 30th and will include:
Fleet Feet Running Club gear.  
35% savings on Fleet Feet Group Classes.
35% savings on Fleet Feet Assessments, including VO2 Assessment, Caloric Expenditure and Functional Movement Screenings.  
20% savings on Fleet Feet's Massage Services.
5% savings while you Shop With Us at Fleet Feet St. Louis.
A professionally designed, 12-week training program, including daily workouts.
3 weekly coached group workouts.
Weekly communications and support from our dedicated coaching staff.
Seminars and clinics on topics such as injury prevention, nutrition, how to dress in the ever-changing St. Louis weather, and cross-training.
Affiliation with our extensive team of community partners, health professionals, and service providers who offer benefits to all 13.1mi Training Program members.
Unparalleled motivation and the camaraderie of fellow participants with the same training goal!
Race day support and post-party.