Next program begins Sunday, January 10th, 6:00pm at Fleet Feet Des Peres.
Regular exercise boosts energy, reduces stress, improves sleep, helps with weight management, and lessens the likelihood of developing chronic disease.  WalkFIT is a 10-week walking program for those who want to take their first steps toward a more active lifestyle. No previous exercise experience is required. The program concludes with participants walking their first 5K (3.1 mile) race.  
If you're interesting in running or walk/running - not walking - your first 5K, please consider our No Boundaries program.
Program Perks
PROVEN: We've helped thousands of new athletes complete their first 5K. 100% of the participants in our Summer 2014 program reported that they improved their fitness level and more than 90% reported achieving their personal goals. Overall, the program was rated 4-1/2 out of 5 "stars" by participants.
CAMARADERIE: Group training is like having a personal fitness support group. Our support group meets twice weekly; Wednesdays at 6:00pm at Fleet Feet Des Peres and on Saturday mornings at 7:30am at some of St. Louis' best pedestrian parks.
FUN: Our terrific team of mentors ensures that fun and fitness co-exist in our 5K programs.
GRADUAL: We take pride in helping participants safely improve their fitness levels. Our mission is to help team members move more comfortably at every athletic stage of training.
EXTRAS: Participants receive a sweat-wicking t-shirt, in-store discounts at Fleet Feet Sports, and a graduation celebration.
Q:  How do I register?
A:   Registration is available online only. Cost of registration is $100. For your registration fee, you will receive:
A walking pedometer
A professionally designed, 10-week, time-based walking schedule
Coached group walks with experienced, compassionate leaders
Weekly communications and support from our dedicated coaching staff
Seminars and clinics on topics such as injury prevention, nutrition, how to dress in the ever-changing St. Louis weather, and cross-training
Affiliation with our extensive team of community partners, health professionals, and service providers who offer benefits to all WalkFIT team members
Discounts at Fleet Feet Sports during the training period
Technical, moisture-wicking training shirt
Unparalleled motivation and the camaraderie of fellow participants with the same training goal!
Q: What are the requirements for joining?
A: No requirements at all. We do ask that if you have any medical issues to consult with your doctor before registering. Participants under 18 years of age are required to have a parent also join the program and attend every workout with them.
Q:  I have never worked out before. Is this program right for me?
A:  Yes!  WalkFIT is ideal for someone that is not currently doing any activity. The program progresses very slowly and is designed to keep participants injury-free.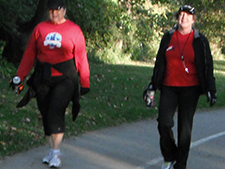 Q:  How does the program work?
A:  Participants will be asked to add 5 minutes (approximately 500 steps) of activity to their daily schedule every two weeks throughout the duration of the program. The goal of the 10-week program is to walk the 5K distance at a local race.
Q:  Where and when do we meet for group walks?
A:  Our WalkFIT program includes group walks that take place Wednesdays at 6:00pm at Fleet Feet Des Peres and on Saturday mornings at 7:30am at some of St. Louis' best pedestrian parks.
Q: If I have to miss a group walk, can I still do the program?
A: Of course you can still do the program! We would love to see every trainee at least two times per week, but we understand that life and obligations may get in the way. Just make sure you are completing your walks independently so you don't fall behind in your progress.
Q: What can I expect at group walks?
A: Our WalkFIT group walks start with general announcements and then some very basic dynamic stretches. Dynamic stretches are stretches-in-motion and are designed to get the muscles warmed-up for exercise and to help prevent injuries. We will time the walks and announce every 5 minutes along a pre-set course. Afterwards, we will take participants through light static stretching. Static stretching is stretching in-place and holding the stretch for 10 to 30 seconds.  Mentors and Coaches will be at all group walks to motivate, encourage, and walk with participants.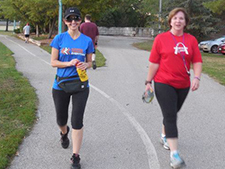 Q: Can I bring a stroller?
A: Strollers are not allowed.
Q: Can I bring a friend to a group walk?
A: WalkFIT walks are for registered participants only. 
Q: Can I bring a dog?
A: No pets are allowed.
Testimonials:
"Great coaches! They helped with race day motivation the whole 10 weeks. They seemed to care about everyone's goals and needs." – Ashley C.
"I went above and beyond my wildest dreams in No Boundaries. Thanks for a life-changing program." – Cheryl W.
"Through the amazing guidance and support of our coaches, we all successfully completed the first of many 5Ks." – Kelly B.
"This is a program that works...for everybody." – Kevin C.