According to a study published in the journal Obesity, participants in group-based weight loss challenges lose 20% more weight than people who take on the challenge alone. Our 10-week Ton of Fun weight loss challenge offers participants tons of support as they pursue a healthier life. Participants are educated by weight loss experts in our newsletters and seminars, motivated and advised via a private Facebook page, provided accountability during weekly weigh-ins, and rewarded for their success.   Accompanying seminars are held in Des Peres and St. Charles and weigh-ins are available at multiple locations.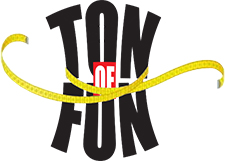 By joining Fleet Feet's Ton of Fun weight loss challenge, 
You'll be held accountable.  There is something about a commitment that makes you more serious about a goal.  Committing to weighing in for 10 weeks at any of our Fleet Feet St. Louis locations will be the driving force to your new weight loss goal.  Plus, speaking to one of our highly-motivating Fit Professionals is sure to pay off.  We want you to succeed!
You'll benefit from a new set of tools.  You should always be refreshing and refilling your tool box when it comes to your health.  With our weekly group classes at both Des Peres and St. Charles and monthly seminars hosted by our Panel of Experts at Des Peres, you are sure to sharpen your weight loss skills.
You'll enjoy the camaraderie.  The best way to learn is from each other.  Our Ton of Fun weight loss challenge provides a community of people who are all in the motivation. Everyone joined the challenge for similar reasons and wants to achieve certain goals.  You are able to weigh in together, share successes and obstacles through social media, and be with people who you know are going through the same experience.
You'll gain the advantage of multiple finish lines.  Our Ton of Fun weight loss challenge not only has one big finish line at the end but weekly ones as well, whether it be joining a new Race Club or a weekly achievement of trying a new fitness class or healthy behavior.  The point is, once you complete one goal your motivation naturally increases to keep achieving them and encourages you to stay on your weight loss path. 
Program Details:
Your initial weigh-in is Saturday, September 12th at Fleet Feet Des Peres from 10:00am-1:00pm.  Your

 weigh-in will be done privately in one of our dressing rooms and your actual weight will NEVER be revealed to others.  

After September 12th, w

eekly weigh-ins are at your convenience (you pick the day and the time) and can be completed at any of our six Fleet Feet St. Louis locations.
Cost of the program is $50.  The purpose of your $50 Ton of Fun registration fee is to make you accountable enough to help lower that number!  Because you have invested money into the program, you are more likely to stick with it.  If you follow our lead, you'll lose weight and earn back your $50.  
And, earn back your money by:
Completing 7 weekly weigh-ins AND losing 2% of your body weight (for example, a 200 pound person losing 4 pounds) to receive a $25 Fleet Feet gift card.
Completing 7 weekly weigh-ins

 

AND losing 5% of your body weight (for example, a 200 pound person losing 10 pounds) to receive a $50 Fleet Feet gift card.
Plus, receive additional prizes when you qualify for one of our Race Clubs!  The more you lose, the more you win!
5K Club (3.1 lbs weight loss)
10K Club (6.2 lbs weight loss)
Half Marathon Club (13.1 lbs weight loss)
Marathon Club (26.2 or more lbs weight loss)
All Ton of Fun particiipants will receive:
A virtual Ton of Fun cookbook.
2 weekly coached group fitness classes:  

Tuesdays at 6:00am at our St. Charles location and Thursdays at 6:30pm at our Des Peres location.

  
A weight loss mentor located at each of our six Fleet Feet St. Louis locations.  
Weekly communication and support from our dedicated coaching staff.
Seminars and clinics on topics such as how to get moving, injury prevention, nutrition, how to dress in the ever-changing St. Louis weather, and cross-training.
Affiliation with our extensive team of community partners, health professionals, and service providers who offer benefits to all No Boundaries team members.
Testimonials:
"Thank you, Brandi,.and Fleet Feet St. Louis for making this experience possible for us.  The weight loss numbers prove you gave us the tools we needed." - C.H.
"This journey has reconnected friends, changed 4 families lifestyles (that aren't in the challenge), and saved countless lives just in my circle paying it forward.  I can't imagine the impact this has had as a whole.  So thanks, Fleet Feet, for giving me my health back!!" - W.K.
"I was in a slump for the last 8 weeks and was really struggling to get moving again.  This challenge was exactly what I needed to get rebooted.  I have felt motivated and supported by everyone at Fleet Feet since I signed up." - C.V. 
"My thanks again for all of your time, effort and dedication to helping St. Louis become a healthier city.  What a great way to 'Pay It Forward!'" - S.L.