Follow Barb's personal chronological log of thoughts of the Brave Athlete and post any comments below for discussion.  
7.27.2017
The Brave Athlete | Post 1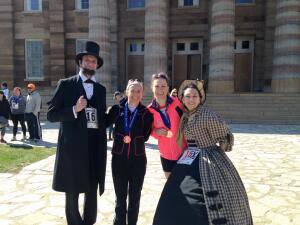 Rachel asks, "What are your thoughts about tomorrow?"
Barb replies, "I'm questioning how I'll respond when things get challenging. I'm hoping I don't let down the people who are pulling for me. I'm wondering if I'll be brave."
Rachel says, "REALLY? That surprises me."
Barb clarifies, "But, here's the thing. After this moment, I'm not going to think about these things again tonight or tomorrow. Having them hanging around will only get in the way of my experience."
It had been 7 months since surgery for avascular femoral necrosis and now the night before the Lincoln Presidential Half Marathon, for which she registered me to give me a nudge back into racing, Rachel was learning that she was not alone in experiencing pre-race jitters. I almost always know what I'm physically capable of accomplishing in a race. I require myself to be honest in the evaluation of the quality of training I have or have not put into a preparation cycle and in the consideration of how healthy I am on race day. If physicality is going to be a variable from one day to the next, mentality must be my constant. Here's the thing about those pre-race night jitters, they're part of our "chimp brain;" you know the one that's paranoid, irrational, and thinks only in black and white. Acknowledging their existence and then putting them aside puts our "professor brain" in control; the part of our brain that deals only with facts, truth, and logic. With regular practice of tuning into the professor, the operating systems of our "computer brain" start accessing and acting on logic more and emotion less.  
The human body really is an amazing thing. As Brandi recently conveyed in a late night work session, "The average person has enough stored adipose tissue to run 50 miles." (She really does have a way with words; her way of saying fatigue is a mental issue, not one of physical capability). Now, the human mind? That holds a lot of mystery and is too often our undoing. In trying to rise to an occasion, our minds can be either our greatest asset, or a great ass*ole.
What are you hoping to get out of this book? From reading along with others? Tell me, Team...What are YOUR thoughts about your tomorrow?
Barb is an enthusiastic believer in open communication so if you have a question, we encourage you to ask. You can submit your questions online by clicking here.  
8.4.2017
The Brave Athlete|Post 2
Chapter 2-I Wish I Felt More Like an Athlete       
 I can't begin to count for you the number of times each day I hear the word "just." When I ask people I encounter in our stores to describe for me what activities they like to do, WAY too often, I'm told, "I just walk/I just do 5Ks/I just do half marathons/I just run slow/I just am not a Boston Marathoner." My every time response is, "If we're to move forward, I'm going to have to ask you to remove the word 'just' from our conversation. Now... tell me what activities you like to do." To see and hear them then state, "I walk...I do 5Ks…" is a great thing to witness.
   If you've ever used the word "just" to describe your athletic identity, I'm going to ask you to put the kabash on that if we're going to continue to move forward together in this training journey. Our author, Dr. Marshall states,"Consistent training is the behavioral demonstration of athletic identity." So, by virtue of you putting your time and effort into this training program, you ARE an athlete! If you are to achieve what is physically possible, you must have a mindset that provides scaffolding to your goals.  Dr. Marshall's theory that developing a strong mindset is best accomplished by using a two pronged approach; inside-out and outside-in has value. Developing a strong self schema (inside-out) is enhanced by training around people with different experience levels and athletic ability. Hey! That's what we're doing every week! I've never left one of our group workouts and not been inspired by displays of people of all abilities stretching themselves to reach goals. This training around others can have a possible catch though. Our schema can be skewed by comparing ourselves to others. If you've ever caught yourself feeling "better than" or "lesser than," you've got a bug in your schematics. Your virus protection is focusing on things within your control and the workouts or races of a peer don't fall into that programming. The outside-in approach is what I call, "fake it until you make it." In addition to being fun to say, "fake it until you make it" requires us to act like we're someone who's going to achieve goals, even when those goals are on a distant horizon. Think about the attributes you want to have; develop mantras, actions, pre workout/pre race routines, and physical routines during. Incorporate these things into your training on a regular basis.
Moment of Disclosure-Until my friend Brian Schoenholz named my athletic identity, I didn't realize it existed. But, he was spot on when he texted me after a race to ask how many prey The Jackal had hunted down that day. The Jackal shows up at my speed workouts and race days. She arrives at track workouts and does the exact same warm-up as she plans to do on race day. She wears the same shoes. She stands at the starting line of every track interval and silently says, "I'm relaxed and ready," just as she will on race day. When things start getting physically uncomfortable in the workout, she thinks, "Relax and roll, relax and roll." This will be repeated in the race. And, oh, The Jackal will wear sunglasses and something orange.
    I'll leave you this week with a video of Billy Mills describing the importance mindset played in him overcoming overwhelming life challenges and physical odds to be the only person from the western hemisphere to win Olympic gold in the 10,000 meters. I've had the opportunity to meet and hear him speak on a couple of occasions and my takeaway has always been his mantra, "What the mind believes the body can achieve," just a more eloquent way of saying, "Fake it until you make it."
https://www.youtube.com/watch?v=DfLLNksZmoY
Don submitted a question seeking advice on discerning between what aches and pains we should consider part of the territory and which we should be more wary of. If you have a pain that decreases during activity, this is usually an indicator that you're safe to continue in the activity that day. It doesn't mean you're off the hook of treating its possible causes once you finish your workout. These types of aches require post exercise stretching, proper nutrition and hydration. A tight muscle is a thirsty muscle. It's also necessary to do some sleuthing into the cause. The cause may be one or a combination of the aforementioned therapies. Or, it can be rooted in improper or worn out foundational footwear, or quite frequently muscle imbalances. That's why the Fleet Feet Training Arch includes functional strength and flexibility components. Get into some classes and become more functional! If pain increases during activity, my advice is to stop immediately, take a few days off from running, and return to activity gradually.
9.1.17
The Brave Athlete | Post 3-I Don't Think I Can
    Team, I apologize for being blog-awol for most of August. Although I haven't put keystrokes to screen in awhile, I have been observing, listening, and speaking with many of you over the last few weeks. Witnessing the doubts that seem to arise this time each season as miles rise have given me some pertinent examples to reflect upon. Self-confidence can take a bruising as bodies attempt to pound out big miles week after week. Several times, I've been approached and asked for suggestions on how to approach difficult sections of a workout bout. Let's apply some concepts from Brave Athlete to these real Fleet Feet Training Team examples. I'm confident we've all found ourselves in these mindsets at sometime.
    After the Carondelet run, B approached me to ask why it wasn't possible for her to complete the progression segment of the run. Afterall, she was always "nails" on the long run pace, but she already knew in the days leading up to the run that the last segment pace was probably not going to be attainable. And, she ended up being right. After determining that she had been doing the weekly training that the program calls for, we delved into the effects that mindset played in performance. "Why did you think you wouldn't be able to progress at the end of the run?" I asked. B replied, "I never have been able to, so there wasn't any reason to think that today would be any different."
     Brave Athlete lays out 4 steps to increasing self-efficacy.
1) Feel success in the steps you take. Coach Cary repeatedly reminded athletes that they couldn't eat the whole elephant at once. (or something like that). I asked B what she would have told me if before the run I had asked her if she would be able to progress for 1 minute instead of 1 mile. "Sure," she said. "In fact, I did that." I followed with asking how she would have responded if after 1 minute, I asked if she had just 1 more minute in her. "I probably could have pushed for 1 more minute, but I was thinking about how there was no way I was going to be able to hold on. I started getting light headed and had to stop." My advice then, now, and always is to focus on what we CAN do, not on what we CAN'T.  The more we do this, there will be more CAN minutes, more CAN miles, more CAN moments. In order to grow as athletes and individuals, our goals must be challenging, yet achievable. We almost always have "1 more" in us.
2)Watch Others Succeed. When people come into my store and reveal to me that they would LIKE to run/walk a 5K, 10K, Half Marathon, Marathon, but that's not realistic because they're too much "this" or too little "that," I implore them to go watch a local race. I'll challenge anyone to come away from that experience and not feel moved by the vicarious experience. And Team, here's one of the beauties in the training experience we have at Fleet Feet; every week we have the opportunity to be inspired by the efforts of one another AND to serve as inspiration to others. I want to reveal something to the "party in the back" pace groups. ALL the 8s I've EVER run with have expressed how motivating you are to them. They marvel at the Saturday perseverance of those in motion who each week outlast them on the course.
3)Verbal Persuasion. Open yourself to receiving encouragement from a person whose opinion you trust; whose perspective is grounded in fact and based on pointing out to you what your skills and experiences are. Brandi and I welcome the opportunity to remind you of what you're capable of. We're not known to be people who will "pee in your ear and tell you it's raining." If we tell you you're capable of something, it's because you are. Just ask Nick Doering about the time he told us he couldn't do something we knew he could.
4) Control Your Body. Learn to reframe negative physical sensations to positive. B told me that she was physically nervous before that Carondelet run. I asked her why she didn't realize that was her trained body preparing adrenaline for her to be successful in her run. She said next time she would use that positive mindset instead of thinking of the sensation as a negative deterrent to success.
    As I conclude, I want to encourage you to view as feedback those things that didn't go the way you had hoped, instead of seeing them as failure. Above all, focus on gratitude. A couple of times over the last few years, walking and running weren't a given for me. (See shirt in pic above, given to me by Nick D) I may never see a distance or time PR again and that's okay. I choose gratitude for what I am capable of and am not defined by numbers.
 The summer of my senior year of high school forever changed how I thought of possibilities. The Sports Illustrated cover of the finish line photo had a prominent place on my bedroom wall. 
https://www.youtube.com/watch?v=7dFgH_vDh6E&sns=em