Our 10K Training Program is designed for the currently-casual athlete who is ready to take their training to the next level.  We'll delve a little deeper into the subjects that will help you go beyond the 5K: speed training, nutrition management, hydration, safety & visibility, and more.  Throughout the 10-week program, you'll gradually increase your mileage as you train mentally and physically for the 6.2-mile distance. As always, our great Fleet Feet coaches and mentors will be with you every step of the way.  
Program Perks
Individualized training in a group setting. Fleet Feet's proven programs has served more than 11,500 participants. Over the past nine years, participants have given our programs an average rating of 4.6 stars (out of five) and more than 83% have completed their goal race. Our program is appropriate for both first-timers and experienced veterans of the 10K distance.

Experienced, professional head coaching

. Our degreed and credentialed head coaches assess each participant's current fitness level and goals and ensure that they train at an appropriate level.

Group Camaraderie.

 

Group training is like having a personal fitness support group. Our support group meets twice weekly.

An introduction to speed training.  Speed training adds some spice into training.  Our 10K program teaches 

the principles of speed training and develops workouts that are individually tailored to program participants.  

Train for the magical 10K distance.

 On one hand, completing 6.2 miles demands your respect and attention, but on the other, it isn't so far that you can't train for it—and complete several 10Ks—in one season. It's one step beyond the 5K (or 3.1-miles) and a great segue to the half marathon distance (13.1-miles).

The 2017 Winter/Spring Program Details:
The program begins with a formal meeting on 

Saturday, January 20th, 2018, 7:30am at the Forest Park Visitor Center.  

  
Track workouts are held on Tuesday evenings at 6:00pm at Parkway Northeast Middle School and long runs (or walks) on some of St. Louis' best paths are hosted on Saturday mornings at 7:30am.  (Runners in our Advanced program are also invited to a Sunday morning workout starting at 6:30am.)
Program is geared towards any 10K early April to early May.   
All 10K Training participants will receive:
A professionally designed, 10-week training program, including daily workouts.
2 weekly coached group workouts:  
Coaches and pace groups at each coached Saturday group workout.  

To help you reach success, our 10K program offers 3 goal-specific groups:

Group 1 – Participants who are hoping to walk a 10K.
Group 2 – Participants who are hoping to run/walk a 10K.
Group 3 – Participants who are hoping to run a 10K.

Weekly communications and support from our dedicated coaching staff.
Seminars and clinics on topics such as injury prevention, nutrition, how to dress in the ever-changing St. Louis weather, and cross-training.
Affiliation with our extensive team of community partners, health professionals, and service providers who offer benefits to all 10K Training Program members.
Discounts at Fleet Feet Sports during the training period.
A technical running apparel piece.
Unparalleled motivation and the camaraderie of fellow participants with the same training goal!
Race day support and post-party.
Cost: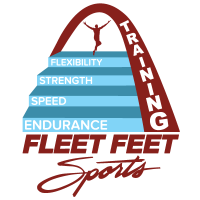 Take the first two steps of the Fleet Feet Training Arch and purchase the 10K Training Program for $120 - two weekly coached group workouts.  Add 10 performance-enhancing and injury-reducing Fleet Feet group classes to complete the Fleet Feet Training Arch and pay $220 - along with the two weekly coached group workouts, you'll receive one weekly Functional Strength or Functional Flexibility group class.