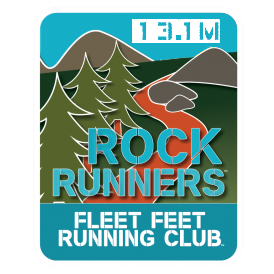 Get ready to kick some dirt, escape the noise, and tackle some inclines with this trail running program designed for those motivated to tackle 13.1M in the greater outdoors.  Members of our 12-week 13.1M Rock Runners program will explore local the best local trails while training for March 3rd's Quivering Quads Half Marathon.  (Race registration sold separately.)  This off-road program features two coached runs per week and offers both run and walk/run groups, so participants of various availabilities and abilities can participate, but entrants should enter the program available to run at least one group workout each week and capable of running at least 5 miles on the roads at a pace of 12:30/mile or faster.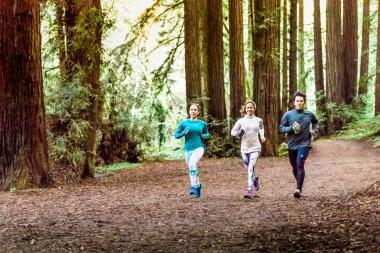 The program begins with a formal meeting on Monday, December 10th 2018 at 6:00pm at our Des Peres location and is followed by two group workouts each week:
Wednesday evenings, 6:00pm,

 at the Lewis & Clark trail, off Highway 94 in St. Charles County

Saturday mornings, 7:30am,

 on some of St. Louis' best single track trails
The standard 13.1M Rock Runners program costs $168.  If you choose the 13.1M Rock Runner Plus program, you'll pay $252 and add a weekly Functional Strength or Functional Flexibility class to your program.  These classes will enhance performance and reduce injury risk and are important ingredients to a well-rounded training program, as explained here.
Looking for more - or less - than 13.1M?
 Visit our 

10k Rock Runners

 or our 

50k Distance Project

 for additional trail running programs.  The 13.1M Rock Runners plan assumes you have at least three solid half marathons under your belt, the critical experience and base-building that comes with it, and are capable of running at least 5 miles or more on the roads at a pace of 12:30/mile or faster.  
---
Testimonials:

"If you are looking for a change in your running routine, I highly recommend enrolling in Fleet Feet's Rock Runners program.  The trails of St. Louis County are great courses on which to be introduced to the technical aspects of trail running, preparing you for any trail race.  Since joining the program last year my endurance, agility, and strength have significantly improved, which has also contributed to my road race performance."  - BB
"Fleet Feet's Rock Runners program will help you improve your road race times because trails are more physically demanding.  Personally, I was able to improve my half marathon time on the same course by 27 minutes!  I know the trail training was a big part of achieving that." - TJ
"Fleet Feet's Rock Runners program introduces you to trails across St. Louis that you may have never discovered on your own. The ability to pick from week to week if you want to do the short or long route is great when your schedule changes. And you are introduced to trails that you can hike or run with your family." - SB
"As a female, I think that for safety reasons it is great to run in the woods with a group of people.  And running in the woods really does make you feel like a kid again." - LJ
"Fleet Feet's coaching staff is awesome!  Head coach Andy is an incredible runner and offers great insight and tips for trail running - and he is very thorough when mapping out the routes.  All of the coaches will help you improve your running while teaching trail etiquette, safety, and they know what to do if someone gets hurt." - DC