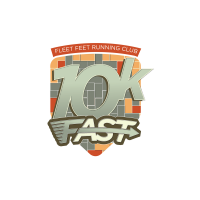 Despite being "short" from a distance runner's standpoint, the 10k is a difficult race distance to master.  The 10k is a blend of speed and endurance that necessitates running only a few ticks slower than 5k pace, yet for double the distance.  Our 10k Fast program is designed to prepare advanced competitors for the exact physiological challenges of the 6.2-mile distance, teach the body and mind how to push through the tough parts of a race, and perfect a pacing strategy that pushes the limits.

 Our 10k Fast Program is for experienced runners who have made the transition from completing to competing and who have been following a structured training program for at least two years. 


By participating in our 10k Fast program, you will...
Master the 10k.  

Using some basic strategies, you may find yourself finishing faster and feeling more confident when you toe the line.



Become a well-rounded runner.  Work not only your speed, but focus on your endurance.  
Be led by Experienced, Professional Head Coaching.  With over 20 years of experience in sports performance, our degreed and credentialed coaches have led 80% of fast program participants to a Personal Record (PR) in a variety of distances. 
When you join our 10k Fast Program, you will...
join us for a Club meeting, Saturday, January 19th, 7:30am, at the Forest Park Visitor Center.    
travel to the best St. Louis paths, Saturday mornings, 7:30am.  
perform track workouts, Tuesday evenings, 6:30pm, at Parkway Northeast Middle School.  
complete pace/tempo runs, Sunday mornings, 7:00am at Forest Park Visitor Center.  
Fleet Feet Running Club 10k Membership Cost:  $140
Your 10k Membership will run January 19th through April 30th and will include:
Fleet Feet Running Club gear.  
35% savings on Fleet Feet Group Classes.
35% savings on Fleet Feet Assessments, including VO2 Assessment, Caloric Expenditure and Functional Movement Screenings.  
20% savings on Fleet Feet's Massage Services.
5% savings while you Shop With Us at Fleet Feet St. Louis.
A professionally designed, 12-week training program, including daily workouts.
3 weekly coached group workouts.
Weekly communications and support from our dedicated coaching staff.
Seminars and clinics on topics such as injury prevention, nutrition, how to dress in the ever-changing St. Louis weather, and cross-training.
Affiliation with our extensive team of community partners, health professionals, and service providers who offer benefits to all 10k Training Program members.
Unparalleled motivation and the camaraderie of fellow participants with the same training goal!
Race day support and post-party.