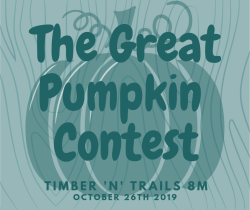 Thank you for your interest in creating a pumpkin for The Great Pumpkin Contest - Timber 'N' Trails 8M. 
Event Date: Saturday October 26th, 2019
Event Location: Cuivre River State Park - Troy, MO
Participants who wish to participate in the contest please follow the steps below:
Fill out registration form below (so we can gauge how many pumpkins are coming)
Create your masterpiece pumpkin- whether it be decorated, painted, or carved
Bring your pumpkin with you on race day where there will be a table to display it on at the race site
During and after the race, all participants and spectators will vote for their favorite. We will then count up the votes, announce the winners on social media, the Timber 'N' Trails webpage, and the winners will be contacted. The winners will be able to pick up their prizes at the most convenient Fleet Feet location they choose below. 
We are excited to host this contest again at the event and can't wait to see what kind of pumpkins show up on race day!