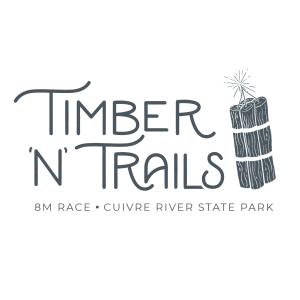 Race Instructions 
Date

| Saturday, October 26th, 2019
Start Times
In order to reduce trail congestion, racers will start in waves of 25, with each wave separated by two minutes. Racers were placed in waves based on their estimated road 10K paces, with the fastest runners in the earliest waves.  (Do NOT expect to match your road pace at TNT.)  The first wave will start at 9 am and the last wave will start at 9:38 am.  Your start time will be posted on Wednesday, 10/23 and can be found via the button below.  The participant label on your race bib also includes your start time.  Please wear your race number visibly on the front of your torso so we can make sure everyone starts at the correct time.

Start Times
Directions, Parking & Shuttle
Carpool: Parking will be extremely tight on race morning.  Carpooling is highly recommended and will help create a better race experience for all. 
Drive Times: Plan to arrive at the parking area within Cuivre River State Park at least 45 minutes before your start time – and not before 7:30am.

When parked, please wait one minute before opening your car doors so that the car parking next to you can do so safely.

 

PLEASE BE PARKED BY 8:50AM

.  If you are coming from the St. Louis area, it will take 55 minutes to reach the parking area from the I-70 river crossing and 50 minutes from the I-64 river crossing.  You will be about 35 minutes away when you reach the I-70/Hwy. 61 intersection in Wentzville and 10 minutes away when you reach the park entrance.
Directions: You

must 

enter the park through the main entrance.  When you reach Troy on Hwy. 61, exit east on Hwy. 47.   Drive 3.1 miles and turn left into the park on Route 147.  Yield to oncoming traffic when crossing the one-lane bridge.  2.1 miles from Route 147, you will reach the Visitor's Center and be directed to turn right onto Lincoln Hill Rd. and drive towards the parking area in Camp Cuivre.  Follow the directions of the volunteers to the first open spaces and park your vehicle as efficiently as possible.  

Click here to get directions to the park's Visitors Center.

Shuttles: The majority of parking is within ½ mile from the start/finish and within easy walking distance.  For spots further away a shuttle will take you to the race start/finish area.  The vans will be marked with Fleet Feet  and their hazard lights will be on.  Shuttles will begin at 7:30am and continue until the last finisher has been returned to their vehicle. Please allow for time to walk or a shuttle to drop you off near the start/finish area.
Start/Finish Area
Portable toilets will be available at the start/finish area.  For race participants, water will be available at the start and a selection of hamburgers, hots dogs, veggie burgers, Gus Pretzels, and other assorted food and drink will be available at the finish. Post-race beer has been donated by iTap.There will be no designated locations for personal items, however, they can be left in start/finish area around picnic tables.  Changing tents will be available after the race.
Help us in our effort to recycle! There will be a designated area of recycling bins for all paper (clean), plastic, and aluminum trash.

Please do not throw other trash in these bins

, we will have separate cans to collect trash in. 
 The Great Pumpkin Contest: Back again for the 2019 TNT event, the contest consists of having participants (You!) decorate, paint, or carve a pumpkin to the design of your choosing, then on race day, bring your masterpiece with you to display for all to see. Racers and spectators will cast their vote for their favorite and prizes will be awarded to the top 3 pumpkins. The contest is free to enter but registration is required. Register here and get started creating your Great Pumpkin!
Course Marking
The course will be clearly marked with Blue/White striped flagging, directional signage and notification signage.  The flagging and directional signage will keep you on course.  The notification signage will keep you safe.  Course marshals will also be on course to assist with anything you need. Please take note of the signs warning of the road crossings, dangerous drop-offs and sections of two-way traffic.  Short portions of the course have two-way traffic and double traffic, please exercise course etiquette and clear communication when passing.  
Aid Stations
Aid stations providing water, sports drink, and pretzels (AS #3) First aid kits will be located at Start/Finish area and three aid stations along the course. Water stations are located at approximately the following miles ~1.75, 3.25, 3.75, 5.5, 7.25
We ask our participants to please carry either a handheld bottle or wear a hydration vest or belt and just fill up at aid stations rather than take cups. We will have limited cups at the aid stations in order to decrease our waste for the event. 
Course Etiquette
(1) Immediately before passing another athlete, clearly announce "On your left!" or "On your right!" and then make the pass on that side.  (2) If you must listen to music while competing, please wear only one earbud and keep the volume low.  During this race, you WILL need to hear what other racers and volunteers are saying.  (3) Littering on the course is UNACCEPTABLE, we must leave the trail cleaner than we found it.  Please help by carrying any trash you have or find to the next aid station. Aid stations will have trash cans available. 
Medical Support
The Lincoln County Ambulance Service will have a crew at the start/finish area.  A first aid kit and cell phones will be available at all aid stations.  In case of an emergency, locate a cell phone as quickly as possible and call 911.  In case of a minor injury, make your way to the closest aid station and ask them to call for a shuttle.  If requested, we will gladly refund the entry fee for any participant who stops or delays their race to assist an injured athlete.
Cutoff Time
The course will remain open until the last athlete finishes.  If you need to abandon the race, a pick-up shuttle can be hailed at any aid station.
Wild Dynamite - Kids 1M Trail Race
Start time will be approximately at 11:30am. Racers 7 & over will start in the first wave with those 6 & under starting 0:30 seconds to 1:00 minute after.
All participants will be timed and receive a finishers prize.
If any parents are available and willing to be a set of eyes on the course please let us know at check in.

Spectators
TNT is a great race - but not an ideal spectator sport.  However, your friends and family are invited to join us at the start/finish area. 
Awards, Results & Photos
Awards will be awarded to the top three overall finishers and the top three in ten-year age groups. Results and photos will be accessible from Timber 'N' Trails webpage.

GOOD LUCK RUNNERS!  OWN THE TRAILS!