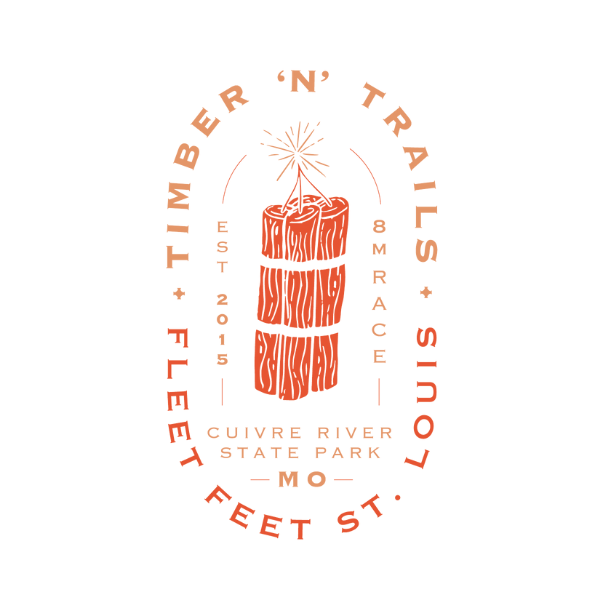 RACE INSTRUCTIONS
Date

| Sunday, October 30th, 2022

PACKET PICK-UP | You may pick up your race packet, and those of any family or friends during the following times:
Friday, October 28 | 11:00am - 7:00pm | Fleet Feet Des Peres
Saturday, October 29 | 10:00am - 5:00pm | Fleet Feet St. Charles
Sunday, October 30 | opens at 7:25am | Cuivre River State Park
All packets must be picked up by 9:15am on October 30, 2022. Any packets not picked by 9:15am on October 30, 2022 are forfeited and no longer guaranteed.
Start Times - In order to reduce trail congestion, racers will start in waves of 35, with each wave separated by three minutes. Racers were placed in waves based on their estimated road 10K paces, with the fastest runners in the earliest waves. (Do NOT expect to match your road pace at TNT.) The first wave will start at 8:30am and the last wave will start at 8:54am. Please check the link below for your start time or ask the volunteer when you pick up your packet. Please wear your race number visibly on the front of your torso so we can make sure everyone starts at the correct time.

Start Times
(Posted the Tuesday before the event)
Directions, Parking & Shuttle
Carpool: Parking will be extremely tight on race morning. Please carpool, if safely able to do so.
Drive times: Plan to arrive at the parking area within Cuivre River State Park approximately 30 minutes before your start time – and not before 7:15am. When parked, please wait one minute before opening your car doors allowing time for the next car to park beside you. If you are coming from the St. Louis area, it will take 55 minutes to reach the parking area from the I-70 river crossing and 50 minutes from the I-64 river crossing. You will be about 35 minutes away when you reach the I-70/Hwy. 61 intersection in Wentzville and 10 minutes away when you reach the park entrance.
Directions: You

must

enter the park through the main entrance. When you reach Troy on Hwy. 61, exit east on Hwy. 47. Drive 3.1 miles and turn left into the park on Route 147. Yield to oncoming traffic when crossing the one-lane bridge. 2.1 miles from Route 147 you will reach the Visitor's Center and be directed to turn right onto Lincoln Hill Rd. and drive towards the parking area in Camp Cuivre. Follow the directions of the volunteers to the first open spaces and park your vehicle as efficiently as possible.

Click here for directions to the park's Visitors Center. Google may take you a different way or to a different location in the park, so we highly recommend using the link.

Shuttles: There will be no shuttle service this year. The majority of parking is within a ½ mile or less of the start/finish area.
Start/Finish Area
Portable toilets will be available at the start/finish area. There will be no designated locations for personal items, however, they can be left in the start/finish area around the picnic tables. Changing tents will be available after the race.
Course Marking
The course will be clearly marked with flagging, directional signage, and notification signage. The flagging and directional signage will keep you on course. The notification signage will keep you safe. Course marshals will also be on course to assist with anything you need. Please take note of the signs warning of the road crossings, dangerous drop-offs, and sections of two-way traffic. Short portions of the course have two-way traffic and double traffic; please exercise course etiquette and clear communication when passing.
Aid Stations
We highly encourage and recommend participants carry all hydration and nutritional needs in their running pack or hydration belt.
Need a pack or other race day supplies? With your race bib, receive a discount on any in-store purchase at Fleet Feet St. Louis.
Aid stations providing water and first aid kits will be located at Start/Finish area and three aid stations along the course. Water stations are located at approximately the following miles ~1.75, 3.25, 3.75, 5.5, 7.25
Course Etiquette
(1) Immediately before passing another athlete, clearly announce "On your left!" or "On your right!" and then make the pass on that side. (2) If you must listen to music while competing, please wear only one earbud and keep the volume low. During this race, you WILL need to hear what other racers and volunteers are saying. (3) Littering on the course is UNACCEPTABLE, we must leave the trail cleaner than we found it. Please help by carrying any trash you have or find to the next aid station. Aid stations will have trash cans available.
Medical Support
There will be an EMS crew at the start/finish area. A first aid kit and cell phone will be available at all aid stations. In case of an emergency, locate a cell phone as quickly as possible and call 911. In case of a minor injury, make your way to the closest aid station and ask them to call for a shuttle. If requested, we will gladly refund the entry fee for any participant who stops or delays their race to assist an injured athlete.
Cutoff Time
The course will close at 2:00pm. If you need to abandon the race, a race vehicle can be hailed at any aid station.
Awards, Results & Photos - Awards will be awarded to the top three overall finishers and the top three in ten-year age groups. Overall winners will be announced at 11:00am followed by age group award table opening. Results and photos will be accessible from Timber 'N' Trails webpage.

FAQ

Are dogs allowed at the event or allowed to participate? We love dogs, but dogs are not allowed at this event or allowed to participate in the race.
Am I able to swap my shirt size for another size? Yes, we will swap out any UNWORN swag on race day beginning at 9:15am. We will not be able to swap out before 9:15am on race day and will not swap out swag that has been worn.
Inclement Weather Policy: The safety of our participants and volunteers is our highest priority. If severe weather is present, we will post an update on the Facebook Event Page and at the top of this page by 5:00 am the morning of the event at the latest.
GOOD LUCK RUNNERS! OWN THE TRAILS!