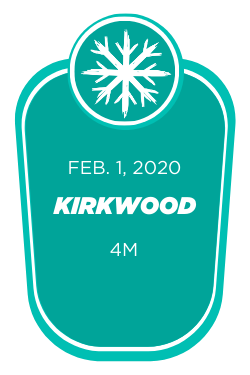 The fourth and final race in the 40th annual Snowball Series takes place in beautiful and historic Kirkwood. The one-loop, 4-mile course will circle through some of Kirkwood's most beautiful neighborhoods. After the race, join us inside St. Louis Community College at Meramec Student Center for post-race refreshments, individual race and series awards. Individual registration available through race morning.
Date | Saturday, February 1st, 2020
Start Time | 7:30am
Location | Kirkwood (St. Louis Community College at Meramec)
Pre/Post-Race | will be near STLCC-Meramec Student Center
Parking | Park on the campus lots near the Big Bend Rd & Coach Ave (West) side of campus.
Course | 4-mile course
Registration
$23 to 1/21
$30 1/25 - Race Day
Individual Race Swag
| Participants who register for individual Snowball Series races have the option to choose from one of the three following swag options for each individual race they register for;
BOCO Digital Printed Beanie | New to the BOCO line and first of it's kind! This digitally-printed beanie is 100% medium weight acrylic and guaranteed to keep you dry and warm throughout the winter months. One size fits most.
JUNK Headband | This is the best athletic headband you'll ever wear! Featuring Junk's breakthrough technology specifically designed to help wick sweat away from the skin and dry quickly. Made from a blend of 89% polyester & 11% spandex, this headband is breathable, soft, & cool against the skin. Bonus, they are machine washable, stay in place while exercising, and looks great of both men and women.
QUE 20oz Collapsible Water Bottle | The water bottle reinvented. This eco-friendly, lightweight, 20oz collapsible water bottle is perfect for your everyday workout, adventures, and travel. The bottle is BPA-Free & non-toxic, 100% food-grade silicone, dishwasher safe, taste & odor-free, lightweight & compact, leak-proof, shockproof, and features a wide mouth for ice cubes. It is temperature resistant up to 400f.
Heavyweight Hooded Sweatshirt | Individual race participants can also choose to add on a 9oz heavyweight, unisex hooded sweatshirt featuring a 40th Anniversary Snowball Series design for $32 during registration.

Packet Pick-Up
Awards
Individual Race Awards | Awards will be given to the top male/female overall & top three males/females in the following age groups: 19 & under, 20-29, 30-39, 40-49, 50-59, 60-69, 70+.
Series Awards | Awards are given to the top three males/females in the following age groups: 19 & under, 20-29, 30-39, 40-49, 50-59, 60- 69, 70+.
Volunteers | Interested in volunteering for the series or individual races? Volunteer for 3 or more series races and receive the series swag item. Individual race volunteers will receive a choice from the individual race swag choices. Contact Jules (jules@fleetfeetstlouis.com) for more information.
Sponsors
| Your partnership dollars will provide you with increased corporate and brand visibility while making a direct and meaningful impact on the lives of many in the St. Louis and surrounding areas. By sponsoring the Snowball Series, you receive many benefits (commensurate with sponsor level) including but not limited to: inclusion on the webpage on ffstl.com, print media advertising, marketing upon our social media platforms, complementary series entries, promotional material in Fleet Feet stores and customer bags, and more! For more information email Jules (jules@fleetfeetstlouis.com) or view the
sponsorship packet
.
Refund and Transfer Policy | No refund after December 1st. No make-up date or refunds will be given if the event is canceled due to weather. Entries are not transferable to another event but can be transferred to another participant.
Event Policies
Dogs are not allowed on course or allowed to participate in the races.
Strollers are welcome, we just ask that you start towards the back of the field
Inclement Weather Policy: The safety of our participants and volunteers is our highest priority. If severe weather is present, we will post an update on the Facebook Event Page and at the top of this page by 6:30 am the morning of the event at the latest.