The Snowball Series is back for 2023! Join us for the full series while we tour different areas of our beautiful city. Can't make it for all the races in the series? Sign up for any of the races individually. The series is designed to encourage you to move through the coldest months of the year while promoting health, fitness, and fun for people of all ages and abilities. Come as you are, bring some friends, and join our winter running family.
Full series participants receive a custom Snowball Series hoodie and custom interlocking finishers medals! New in 2023: Individual race registrants will receive a custom finisher medal! All registrants can also purchase custom Snowball Converter Gloves during registration.
Can't make it to the in-person events but want to be a part of the series and stay motivated? Sign up for the series as a virtual runner and receive the same swag and interlocking finisher medals as series participants, and complete the distance on your own!
Registration Volunteer Sign-Up
SERIES DATES, LOCATIONS, START TIMES, & DISTANCES
PACKET PICK-UP | In-person participants can pick up their series race bib at the following times. Participants will use the same bib for the full series. Series swag will be available for pickup during the second packet pickup on January 13th or at any of the following races.
In-Person Participants:

Series Pick-up

:

Friday, Dec. 30 | 11:00a-7:00p | Fleet Feet Des Peres (Bib Only)
Sunday, Jan. 1 | beginning at 7:30a | Forest Park - Upper Muny (Bib Only)
Friday, Jan. 13 | 11:00a-7:00p | Fleet Feet Des Peres (Bib & Swag)
Saturday, Jan. 14, Jan. 28, Feb. 11 | Race Site | beginning at 7:30a (Bib & Swag)

Virtual Participants:

Series Pick-up

:

Packet Mailing

: If you choose to have your packet mailed during registration, packets will begin mailing out Jan. 12. Packets will include your bib, swag, and medals.

Individual Race Participants:
REGISTRATION | Registration
In-Person Series Registration

$80 | thru 10/31
$85 | 11/1-11/30
$95 |12/1/12/29
$105 | 12/30-2/11

Virtual Series Registration

$55 | thru 10/31
$65 | 11/1-11/30
$75 | 12/1-1/1

Individual Race Registration

$15 | Early
$18 | Late
$22 | Race Weekend
SERIES SWAG | Series participants receive a soft hooded sweatshirt with registration. Series participants can also purchase our custom Snowball Series converter run gloves by BOCO gear for an additional fee.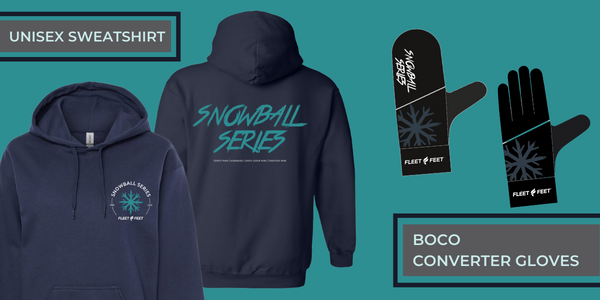 INDIVIDUAL RACE SWAG | Individual race participants will receive a custom race bib and a finisher's medal for the race they partake in. Individual race participants can purchase the BOCO gloves during registration for an additional fee.
VIRTUAL SERIES | Virtual series participants can complete the route of their choice and submit their results. We suggest using Garmin Connect or Strava to track your miles! If you are able to improve upon your time, you are able to go in and update your time using the submissions link. If you have any other questions regarding the results submission process, please email jake@fleetfeetstlouis.com.
Results for each distance can be submitted between the following dates:
Race #1: 5K | Jan. 1-Jan. 13, 2023
Race #2: 4M | Jan. 14-Jan. 27, 2023
Race #3: 7K | Jan. 28 - Feb. 10, 2023
Race #4 5M | Feb. 11 - Feb. 24, 2023
SERIES FINISHER MEDAL | Back again this year! Series participants will receive a custom finisher medal for each series race. Each series medal features a unique interlocking design that fits together to create a single master medal. Have to miss a series race? You can make up the missed race on your own and we will award you the medal at the next race in the series.
INDIVIDUAL RACE FINISHER MEDAL | New this year! Individual race participants will receive a finishers medal after crossing the finish line. Whether you run one, two or three races, you will receive a medal for each race you complete. These medals will also interlock to showcase your WINTER ACHIEVEMENT!
SERIES SCORING | To earn series points and be eligible for series standings, you must be registered for the entire series. Each series participant's 3 best scores will determine their final standing. Age groups are 15 & under, 16-19, 20-24, 25-29, 30-34, 35-39, 40-44, 45-49, 50-54, 55-59, 60-64, 65-69, 70+. The age of the series participants on 1/1/2022 will determine their age group. Points will be awarded based on age group placement: 1st – 50 points, 2nd – 45 points, 3rd – 40 points, 4th – 35 points, 5th – 30 points, 6th – 25 points, 7th – 20 points, 8th – 15 points, 9th – 10 points. All remaining finishers receive 5 points.
AWARDS | Series awards are only available to in-person series participants. There will be no awards for the individual races, only series awards.
In-Person Series Awards

| Top three males/females in the following age groups:15 & under, 16-19, 20-24, 25-29, 30-34, 35-39, 40-44, 45-49, 50-54, 55-59, 60-64, 65-69, 70+.
VOLUNTEERS | Interested in volunteering for the series or individual races? Volunteers will receive Snowball Series Swag. Contact Jake (jake@fleetfeetstlouis.com) for more information or use the signup link below.
EVENT POLICIES
No-Risk Registration

- We understand these are uncertain times. Our intention is to host an in-person event. However, should the health situation change and we are unable to host the event, all runners will be able to defer to 2024 or run the event virtually. If the event is canceled prior to December 31, 2022, participants will have the option to choose between a refund, deferral, or running the event virtually.

Refund Policy

- No refunds will be given after December 20, 2022. Processing fees are non-refundable. Entries are not transferable to another event but can be transferred to another participant. Transferring registration is allowed through December 27, 2022. A $3 processing fee will be applied to all refunds and transfers.

Can I switch from the physical event to the virtual event?

Yes. Transfers are allowed through January 13, 2023. Please contact jake@fleetfeetstlouis.com to transfer. A $3 processing fee will be applied to all refunds and transfers.

Inclement Weather Policy:

The safety of our participants and volunteers is our highest priority. Races will be held rain, snow, or shine and will not be canceled except for cases of severe weather or unsafe road/course conditions. If severe weather is present, we will post an update on the Facebook Page and at the top of this page by 7:00 am the morning of the event at the latest. Less threatening conditions may cause alterations of the course or race day activities to ensure participant, volunteer, and community safety. No refunds or credits will be given in case of cancellation due to weather.

What if I have a positive COVID-19 test or show symptoms of COVID-19?

If you have a positive COVID-19 test or are showing symptoms (click here for a full list of symptoms) we ask that you do not attend the event. Participants who fall into this category can complete their distance virtually after their quarantine period. We will award the finisher medal at a later date after their quarantine period. After the participant's quarantine period of 10 days is complete, they can continue to participate in the series events.

Swag Policy & Exchange:

We will not be able to exchange any swag that has been handed out and taken home. Swag must be picked up by 1/28/2022. We will no longer guarantee it after this date.

Are dogs allowed at the event or allowed to participate?

We love dogs, but dogs are not allowed at this event or allowed to participate in the race.

Strollers are welcomed

, we just ask that you start towards the back of the field.

Will there be on-course support?

Yes, we will have course marshals and traffic control on the course. Athletic Trainers will be available at the finish line.

Will there be on course Aid Stations?

No, there will not be on-course aid stations. We highly encourage and recommend participants carry all hydration needs.
THANKS TO OUR SPONSORS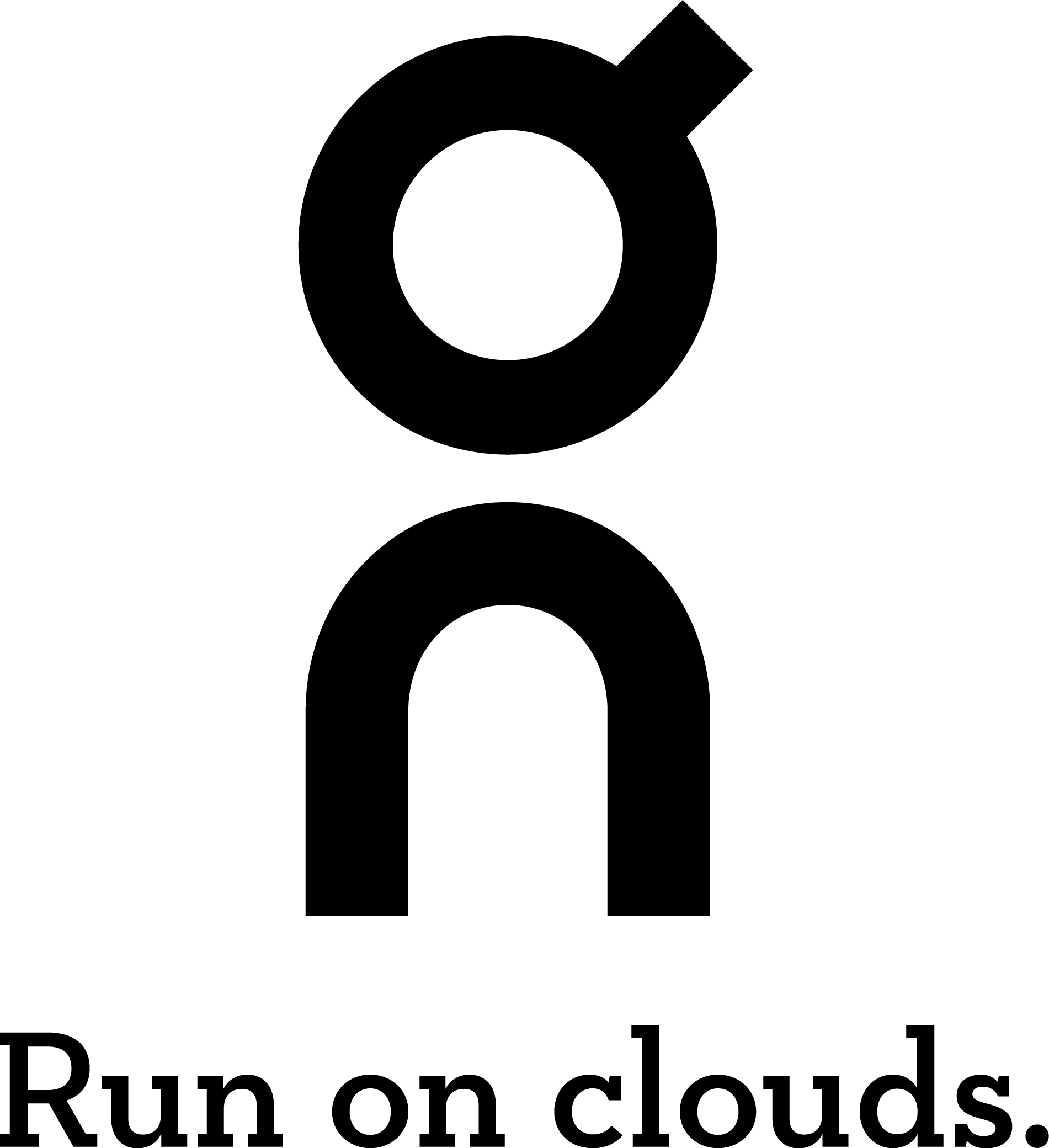 SPONSORS | Your partnership dollars will provide you with increased corporate and brand visibility while making a direct and meaningful impact on the lives of many in St. Louis and surrounding areas. By sponsoring the Snowball Series, you receive many benefits (commensurate with sponsor level) including but not limited to: inclusion on the webpage on ffstl.com, print media advertising, marketing upon our social media platforms, complementary series entries, promotional material in Fleet Feet stores and customer bags, and more! For more information email Jake (jake@fleetfeetstlouis.com)