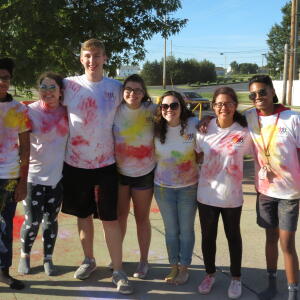 The Zumwalt FBLA Leadership Color Fun Run will be held at Ft. Zumwalt South High School. The run is teaching the FBLA members how to use what they have learned in the classroom in the "real world." The students are in charge of creating the t-shirt design, contacting businesses for sponsorships, advertising the run, setting the budget, contacting suppliers, etc. Learning to collaborate with FBLA members from other schools. We would love for you to attend our Run.
Date | Saturday, September 22nd, 2018
Start Time | 

9:00am | 5K
10:00am | 1M Fun Walk/Run

Location | Fort Zumwalt South High School | 8050 Mexico Rd. 
Swag

All runners/walkers will receive a t-shirt Child Sizes--S - L Adult Sizes--S - 3XL

Registration Fees

$20 | 1M | 4/21-9/21
$25 | 5K | 4/21-9/21
$25 | 1M | Race Day
$30 | 5K | Race Day

Packet Pickup and Late Registration
Awards | 

All runner/walkers will receive a medal at the finish line.

Results

2018 | will be posted after the race
If you have any questions about the race results, please click here.