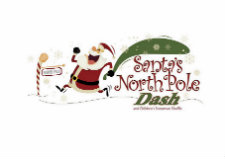 Get in the holiday spirit as you run through Historic St. Charles at Santa's North Pole Dash. All 5K / 1-mile walk participants will receive a 2017 themed shirt, hat & beard. Children's run participants (3-11 years of age) will receive a snowman themed shirt. All participants are invited to celebrate their finish at our Pancake Breakfast along the banks of the Missouri River, in Frontier Park. Characters from Christmas Tradition are on hand to greet attendees and are available for photos.
Date | Saturday, December 2nd, 2017
Start Time 

8:00am | Children's Snowball Shuffle
8:30am | 5K & 1 Mile

Location | Historic St. Charles, 500 S Riverside Drive, St Charles, MO
Swag | 5K / 1-Mile choice of traditional Santa shirt or 2017 themed shirt, beard & hat Youth sizes Medium - Large Adult sizes Extra Small - Extra Large, 2XL, 3XL Children's Snowman Shuffle Youth sizes Small - Extra Large All participants receive free ticket for pancake breakfast.
Post-Race Party/Breakfast:

 Every participant will be invited to attend our Post Race Party, to be held in the tent located within Frontier Park. Included in your registration, additional tickets, for family not participating in the run, can be purchased through the website for $6 in advance or $7 at the door. There will also be hot coffee and hot chocolate available at the finish.

Registration Fees

Registration opens for 24 hours at 12:00am on Saturday, June 25th, for a one day promo. It will close at 11:59pm on June 25th. Register on this day to get in for only $25! Standard registration opens at 12:00am on July 1st.

5K | 6/25 | $25
5K | 7/1-10/31 | $35
1 Mile | 7/1-10/31| $30
Children's Snowball Shuffle | 7/1-10/31| $20
5K | 11/1-11/29 | $40
1 Mile | 11/1-11/29 | $35
Children's Snowball Shuffle |11/1-11/29 | $25
5K | 11/30-race day | $45
1 Mile | 11/30-race day | $40
Children's Snowball Shuffle | 11/30-race day | $25
Event sells out at 3,000 participants. 

Packet Pickup and Late Registration
Course | This race occurs during the annual Christmas Traditions celebration in Historic St. Charles. Several of the Christmas Traditions characters will be on hand following the race to exchange trading cards and for photo opportunities. Many of the shops on Main Street will be offering special discounts to those runners (wearing their race shirts) on the day of the run. It's a great way to get in the holiday spirit and enjoy time with family and friends.
Awards | 

The awards ceremony will also take place within the party tent, located in Frontier Park. The overall Men's and Women's finisher will receive awards. Additional awards to the top three Men's and Women's finishers in each age bracket: 13-19, 20-29, 30-39, 40-49, 50-59, 60& over. Holiday keepsake medals will be presented to all who finish.