Let's salute the veterans who bravely serve our country! We invite you to participate in the Veterans Day 5K event in downtown St. Louis on November 11, 2017. Run or walk in honor of the veterans in your life as well as St. Patrick Center's veteran clients at this family-friendly event.  The event features a timed 5K, FREE kid's dash, one-mile fun run, DJ, hot chocolate and coffee courtesy of Ronocco, face-painting, bubble bus, photobooth, chiropractic massages and muscle work, playtime with puppies from the APA, snacks, beer courtesy of Anheuser-Busch, appearances by Fred Bird and Louie, parade, ceremony and awards. Walkers and pets are welcome! 
The event is held in conjunction with the annual St. Louis Regional Veterans Day Observance Ceremony and Parade, with the arch in the backdrop this creates the perfect photo opportunities for parents and grandparents! Participants will receive a moisture-wicking long-sleeve race shirt. Plus, there will be plenty of refreshments (complimentary beer for those 21 & over). The 5K race awards ceremony will be on the same stage as the Veteran's Day ceremony by the city, which precludes the parade in the same location! This family-friendly morning is a great way to commemorate vets who are serving and have served the USA. All Veterans Day 5K proceeds will go to St. Patrick Center, which annually assists 1,100 veterans who are homeless or at risk. 
Veterans receive a $5 discount and a free Veterans Day 5K sticker that indicates they are a proud veteran! Swag items are also available for purchase to support St. Patrick Center and our work to end veteran homelessness. You can honor your favorite veteran by purchasing an event day sticker for $10 and writing their name as who you are racing for! Beanies and ear warmers are $15 each.
Want to help out instead? Sign up to volunteer.
Date | Saturday, November 11, 2017
Start Times


5K & 1 Mile | 9:00am
Kids Dash | 10:00am
Awards Ceremony | 10:15am
Veteran's Day Ceremony | 10:30am
Parade | 12:00pm

Location | Downtown St. Louis, Soldiers Memorial, 14th and Market St.
Swag and additional options | Included in the price of registration is a nice Carolina Blue long sleeve unisex moisture-wicking shirt.  Register by 10/02 to be guaranteed a shirt in your size.  (example added soon!)

Need more? Choose a swag item!  Participants can choose between a beanie or fleece ear warmer as an additional purchase

"

Honor a Veteran" Walk or run in honor of the veterans in your life.  With an additional $10 donation you can wear this customizable sticker at the race and salute your favorite veterans!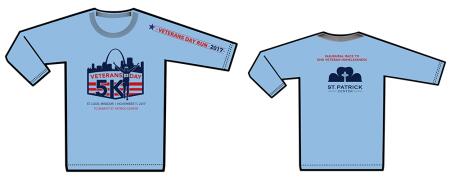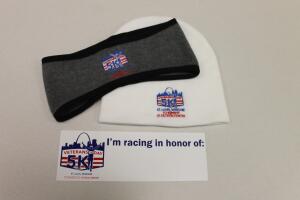 Registration Fees

5K & 1M | $25 | until 10/01   

5K & 1M | $30 | 10/02 - 11/10
5K & 1M | $35 | Race Day
Free Kid's Dash available for sign up if the parent is participating in the 5K or 1M.
Shirt guarantee deadline is 10/02

Packet Pickup and Late Registration
Course | Map
Awards | 

Top three overall males and top three overall females; then the top three males and top three females (overall winners excluded from age groups awards) per the following age categories: 19 and under, 20-29, 30-39, 40-49, 50-59, 60-69, 70 and over.