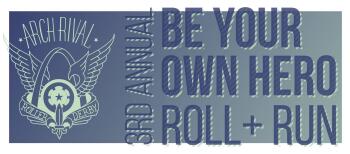 Ever wanted to skate a 5K? How about run a 5K? Ever wanted to hang out with the #6 roller derby team in the world? Want to dress up as a super hero? Here's your opportunity to do all of these! If skating is your thing than come join your favorite Arch Rival Roller Derby players for a 5K on the beautiful bike paths of Carondelet Park. If you like running, we follow the same path as the skaters. Are you up for the 10K Roll and Run Challenge? If you love both skating and running here is your opportunity to show how tough you are. The individual with the quickest overall skate and run 5k times gets a free set of 8 wheels. Come enjoy company and a good time with some of the best roller derby players in the world. Don't forget your best costume! Quads and inlines are all welcome to skate in the 5K. The more the merrier!

Date | Saturday, June 9th, 2018
Start Time | 

8:00am | Skate
8:30am | Run

Location | Carondelet Park, Music Stand | 3900 Holly Hills Dr, St. Louis, MO 63116
Swag

All participants will receive a sleeveless t-shirt with registration
5K | S-XL
10K Challenge | S-XL
Must register by May 25th to be guaranteed a shirt 

Registration Fees

$25 | Skate 5K
$25 | Run 5K
$40 | 10K Roll and Run Challenge 

Packet Pickup and Late Registration
Awards | Top 3 males and females will receive awards in both the Skate 5K and Run 5K. Overall finishers of 10K Roll and Run Challenge will also receive an award  
Results

If you have any questions about the race results, please click here.