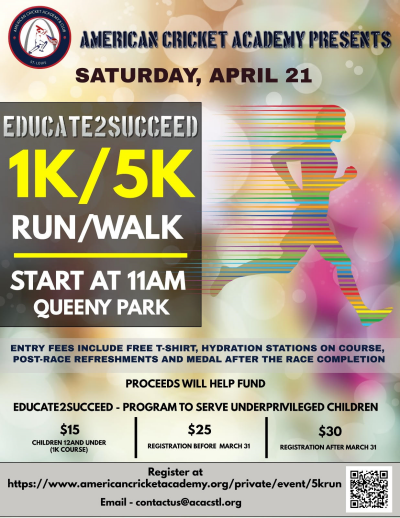 Educate2Succeed-Program to serve unprivileged children. American Cricket Academy and Club (ACAC), a nonprofit organization, born with an idea of giving back to the community through youth sport. Our vision with three foundational pillars - Character, Community, and Cricket, to create a selfless team of volunteers with a positive attitude of investing back into our community. Our charity effort involves athletes and their families on volunteer initiatives across the metro St. Louis area and other countries. Through your continued generosity we will be able to achieve the goal of expanding our current projects in the St Louis area and internationally. All donations are tax deductible.
Date | Saturday, April 21st, 2018
Start Time | 

5K | 11:00am
1K | 12:00pm

Location | St. Louis County - 

Queeny Park, 

550 Weidman Rd, Ballwin, MO
Swag | Participants will receive an event shirt. Sizes Youth Small- Youth Large, Adult XS-2XL
Registration Fees

12 & under | $15
Adults (13 & up) | $25 | through 3/31
Adults (13 and up) | $30 | 4/1-race day

Packet Pickup and Late Registration

4/21 | 10:00am | race site

Results

2018 | will be posted after the race
If you have any questions about the race results, please click here.