For Immediate Release
Zensah® and FLEET FEET St. Louis Join Forces To Bring Warmth To St. Patrick Center
Zensah® and FLEET FEET St. Louis donate compression leg sleeves to local center
St, Louis, MO – February 4th, 2014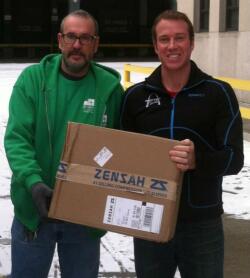 Zensah®, a leading compression apparel company, announces its partnership with FLEET FEET Sports in St. Louis, recognized for their unrivaled shoe fitting process and involvement in the running community.  FLEET FEET St. Louis has delivered to St. Patrick Center with a donation of 300 Zensah® compression leg sleeves. According to Christian Kelley of St. Patrick Center, the sleeves will primarily be used to provide additional warmth for the center's clients.  A secondary goal will be to help clients move more comfortably.
Chris Leonard of FLEET FEET St. Louis, says "Our staff has been involved with St. Patrick Center for a few years; working with them on fundraising events.  It's a great charity and an important cause that we love being a part of.  We are excited to work with Zensah® on providing St. Patrick Center with compression leg sleeves as an extra layer of warmth during this cold winter.  Along with the leg sleeves, we donated 2500 protein bars.
Parker Robinson at Zensah® says, "We are happy to be working with the team at FLEET FEET for a great cause!  We hope the soft fabric of the sleeves brings lots of comfort and warmth to those at the center. St. Patrick Center is a great organization, and we hope to work with them again the future."
About St. Patrick Center: St. Patrick Center is one of Missouri's largest providers of housing, employment and health opportunities for people who are homeless or at risk of becoming homeless. They take an action-based approach to service and offer nationally recognized programs that assist more than 8,000 people each year.  Their mission is to help individuals and families move from homelessness to independence in dignified, cost-effective and permanent ways.  For more information about St. Patrick Center, visit www.stpatrickcenter.org.
About FLEET FEET St. Louis: FLEET FEET specializes in providing the runners and walkers of St. Louis with equipment that meets their individual needs, group training that helps them reach their goals, and racing opportunities that satisfy their competitive spirit. FLEET FEET Sports opened in 1993 and is locally owned and operated by David and Debby Spetnagel. For more information about FLEET FEET, visit www.fleetfeetstl.com or call 855-LUV-2-RUN.
About Zensah®: Zensah®, the Miami-based compression brand, leads the growth for compression apparel in the running industry. The company is recognized for utilizing seamless technology in all of its athletic apparel. Their seamless compression products are praised by all athletes. Zensah® has the number one selling Compression Leg Sleeves in the US for Running Specialty.
Ryan Oliver
marketing(at)zensah(dot)com
ZENSAH® COMPRESSION APPAREL
(305) 935-4619