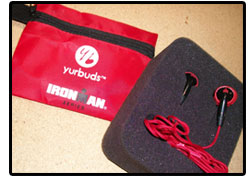 It took thousands of miles of running, but I finally found the perfect earbuds—or, I should say,
yurbuds
. 
I must admit I was skeptical at first. I am convinced all headphones have strong conspiratorial tendencies—namely, to cause as much fidgeting, fiddling, and discomfort as possible. To me, headphones are synonymous with hassle. They fall out. They hurt. They fall out. They rub my ears raw. They are uncomfortable. Oh, and did I mention they fall out? Yes, headphones equal compromise.
My first experience with yurbuds involved a 12-mile run, 80-degree temperatures, and 40 mile-per-hour wind gusts. I was skeptical. You know how it is with earbuds. All claim, no game. Years of earbud infidelity had made me a bit cynical, to say the least.
Suffice it to say, yurbuds knocked my socks off.
There was no discomfort. No fiddling. No rubbing. No falling out. At all. I'm not gonna lie. I was shocked. There I was, sweating up a storm, buffeted by gale force winds, and despite the worst-case scenario conditions, the yurbuds didn't budge. Furthermore, they were literally unnoticeable in my ears. They had such a gentle, supple fit, not once did I feel pressure or pain. They were about as close to air as earbuds will ever come. To cap it off, the quality of the acoustics was outstanding, and I was delighted by their rich, full sound.
I have fallen in love with my yurbuds. I carry them with me wherever I go. My ears are now happily healed. I can run with music every day in total comfort. Beyond total comfort, really. Luxury would be a more appropriate term.
Once a card-carrying earbud skeptic, I am now a believer. Thank you, yurbuds.
Sincerely,
A yurbud Runner
St. Louis, MO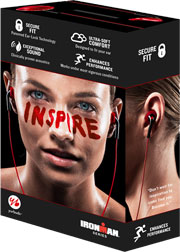 No matter the distance, pace, conditions, or temperature, these babies never fall out. Ultra-soft medical grade silicon completely eliminates any hot spots or rubbing and provides a customized fit. The practically indestructible Kevlar Cable is tangle-free.
IM Yurbuds: $49.99