I love being involved in the sport of running because it's all about striving to be "more" tomorrow than we are today.  To be more healthy; to enjoy more time with our friends; to be more relaxed; to be more of the person we dream of being.  Running is an outward manifestation of so many positive thoughts and emotions.  I am inspired each and every day by those that are brave enough to take on the challenge to be more.
Over the past few months, as the coach of FLEET FEET's Boston Marathon training program, I have been blessed to work with an amazing group of people.  Each member of our team committed themselves to train for the Boston Marathon, the world's most prestigious marathon.  Those who had already qualified for the race at an earlier marathon trained hard to excel in this past Monday's race.  Those who had not yet run the required time for entry into Boston trained hard to run a qualifying time at a spring marathon so they could toe the line at next year's race.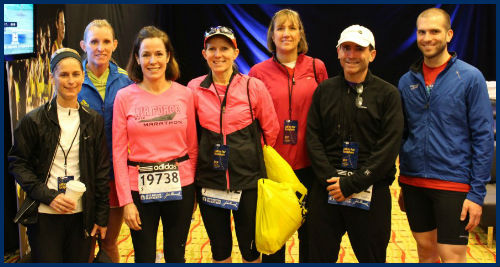 This Monday, our group of qualified runners toed the line at the 117th running of Boston.  Some achieved their goals and some missed, but they all can be proud of being more on Monday than they were when we first met this winter.   I am incredibly proud of each and every one of them for pursuing their dreams.  Thank you for an incredible ride.
That should be the end of the article...but it's not.  The tragedy that hit Boston will be in the headline for weeks.  A senseless act of cowardice marred a day to celebrate so many dedicated individuals.  My initial reactions of outrage and anger still boil just below the surface.  But as a runner, I know I must start putting that next foot in front of the other.  Sitting back in fear or lashing out indiscriminately in anger only exacerbates an already tragic situation.  As runners, there is one thing we should be called to do... run.  We must run together and prove to those that seek to attack our pursuit of excellence that our fraternity is stronger than theirs.  We run in part because it's about community.  We run in part to let loose our anger and frustration.  We run in part because we aspire to be more, not less.  We run because it is what we are called to do.
Come join one of our FLEET FEET social runs in the coming weeks and show those that try to bring darkness into the world that we will rise against them.  This is our exclamation that we are strong - and this is why we run.
Coach Cary