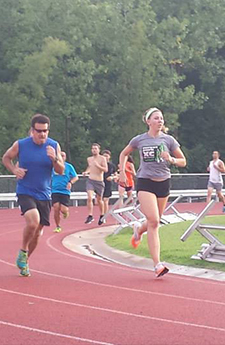 I love the track. I grew up on the track. Heck, I proposed to my wife on a track. So for me, speedwork is home. For much of the population, however, the track is like the scary basement in Home Alone. But if Kevin McCallister can overcome his fear, we can overcome ours. By learning a little more about the how's and why's of speedwork, we can shed some light on the subject and make the 400-meter oval a lot less daunting. 
The track is one of the most avoided aspects of training. Many runners can concoct a million reasons to skip the track. But at the heart of the matter lies the fear of the unknown. How bad is this going to hurt? How fast should I run? Isn't the track for fast runners only? The fear of the unknown short circuits many a speedwork session before it even begins. Developing a better understanding of the principles behind and benefits of speedwork helps eliminate those fears. 
It Makes You Faster | Any training plan worth its weight in PRs has multiple training components: a long duration, low intensity run; a medium duration, medium intensity run; and a short duration, high intensity run. The track provides an ideal location to customize a short duration, high intensity workout to your specific needs. You have to run fast to run fast. Sounds pretty basic, doesn't it? It's the truth. If you want to get there, you have to go there. Speedwork helps us to train efficiently and race effectively. By incorporating speedwork into your training, you'll allow your body to adapt to faster speeds. 
It Makes You Fitter | The physiological gains made at the track not only help us get quicker, but they also help us get healthier. Speed sessions increase the maximal stroke volume of the heart, which decreases our typical heart rate and, therefore, makes the heart more efficient. It also increases the range of motion in our joints and recruits different muscles than slow runs. Increased range of motion strengthens the bones, ligaments, and joints so that they can absorb and adapt to higher workloads. Greater muscle recruitment results in greater strength and injury resistance. 
It Helps In Weight Loss | Since speedwork is intense, we burn more calories per hour on the track than we do during our normal or easy runs. Research also shows that high intensity training causes spikes in growth hormone levels, which aids in fat loss. Another benefit is that speedwork increases our resting metabolic rate for upward of 24 hours after exercise. That means we'll still have that after burn going on long after we've finished out speed session. 
It's A Stress Reliever | Speedwork is also an excellent resource for beating life's frustrations into submission. "Taking it out on the track" is a cathartic way to stay sane. Running off the frustrations of school, work, family, life, etc., is a great way to relieve the stress that builds up over time. The burn on the track will help you feel better later. 
Incorporating speedwork into your training program is a great way to improve your fitness and drop some nice PRs. Finding a fun-loving group of people with similar goals can help you develop as an athlete. Fleet Feet offers a summer speedwork series to help you learn more about track workouts and provide a great group to help push you along. Come find out just how much fun hitting the track can be. 
---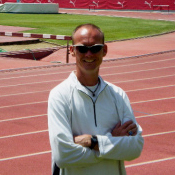 Tim Cary is Fleet Feet's Assistant Training Manager and coach of the Fleet Feet-sponsored Runnababez Elite team.  Over his more than two decades of coaching, Tim has coached athletes to three national team championships, five national individual championships, two national records, and numerous All-American and All-State honors.  Click here to receive Tim's weekly article via email.