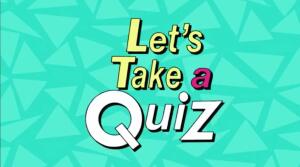 If you've recently checked your Facebook timeline, you've probably taken a quiz that has revealed which President you most resemble... or which classic rock band you should identify with... or who your celebrity soul mate is.  Running-themed quizzes are sorely lacking, though.  So, in the interest of fun - and with absolutely NO scientific merit - I offer you the FLEET FEET personality quiz that will tell you which race distance is your sole mate.
Pick a vacation destination:
Yosemite
Boston
Disney
Carlsbad
New York
Santa Monica
Couch
Pick an animal:
Mountain Goat
Dog
Badger
Horse
Rabbit
Cheetah
Sloth
Pick a Singer/Band:
Foster The People
U2
America
Black Eyed Peas
Imagine Dragons
LMFAO
Yanni
Pick a Food:
Granola
Penne Pasta
Sweet Potatoes
Bagel
Banana
Steak
Donuts
Pick a Car:
Chevy Spark
Toyota Prius
Honda Accord
Ford Taurus
Dodge Avenger
Ferrari Enzo
Hummer H1
Pick a Running Shoe:
Hoka Bondi
Brooks Glycerin
Asics Kayano
Adidas Energy Boost
Mizuno Sayonara
Saucony Showdown
Crocs
Calculate your score by adding the numbers next to each of your answers.  Use your score to identify your ideal race distance:
6 to 10 = Ultramarathon
11 to 16 = Marathon
17 to 22 = Half Marathon
23 to 28 = 5k
29 to 34 = Mile
35 to 40 = Sprints
41+ = Racing???  What's that???
What fun, however, is a quiz unless it also provides a ridiculously generalized description of your personality?
 
Ultramarathoner - You are an odd combination of laid back and focused.  You are just getting loose when most others have called it a day.  If you had a few dollars for every time you heard "I don't even drive that far," you'd be able to buy that house in the mountains.  The constant smile on your face could be from your unwavering optimism or the endorphins trying to protect you from the pain you're feeling from all those blisters on your feet. 
 
Marathon - You are a goal-oriented individual that is willing to push the limits to achieve your dreams.  You know every bathroom, drinking fountain, and streetlight within a ten mile radius of home.  Boston is not just a city in Massachusetts, it is a pilgrimage destination.  You constantly look online to find out how old you have to be to qualify for the Boston Marathon with your current PR.  A subset of this group that has become maniacal about the number 50.  These marathoners provide little boon to the states they visit, however, because they spend less than 48 hours in them - and a good portion of those hours is spent running.
 
Half Marathon - After numerous 5ks, you realized that it's time to cross the half marathon off your bucket list.  Yes, you were bitten by the running bug.  You no longer wonder if you're a "real" runner.  You plan vacations around race weekends and have a giant display of finisher medals.  Disney is not all about Mickey and Minnie, anymore.  It conjures images of tutus, tiaras and sweaty princesses.
5k - The thought of a race lasting more than an hour does not interest you.  Running is a fun stress-reliever.  You fall in the middle of the running bell curve, so there are always friends to run with.  If the mood strikes at any time, you'll lace up your shoes and find a weekend 5k to run.  Thanksgiving means more than just turkey and football, though.  A race in the morning gives you the right to have seconds on everything.
 
Mile - You are not interested in going long and/or slow.  It's all about going hard or going home.  You are the "fast" runner among your friends and your performance indicators are lap splits and seconds rather than average pace and hours.  The toughest part for you is finding a race to run.  You have to look long and hard for all-comers track meets and street miles - and you have to do math when using your times for 1500 meter "metric mile" to predict how fast you would've run a "real" mile. 
Sprints -  You are confident that you are always the fastest person in the room.  You measure your performances in mere seconds.  As John L. Parker's wrote in Once A Runner, the sprinter's art "revolves around a single explosive instant during which all is gained or lost.  They are, perhaps, the spiritual descendants of the assault troops who leaped trenches and scaled barricades to lead the attack.  The are nervous, high-strung, either giddy with success or mired in swamp funk.  They are the manic depressives of the track world."
 
Racing???...What's that??? - You are quite comfortable just chillin' on the couch.  Getting up at the crack of dawn to go out and run does not interest you in the least.  Sure, running and racing would be nice...if they weren't so much work.  Watching the Olympics every four years is about as close to racing as you care to go.

Good Luck and Happy Racing!
Coach Cary