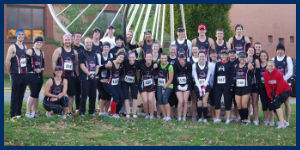 Throughout my years of coaching, I've written many a recruiting letter.  Whether it be for cross country or track; for high school, college, post collegiate; they all were about wanting to see people strive for more and challenge themselves to aspire to be better than they thought possible.  This is my recruiting letter to you.  Yes... you.  If you're reading this, then I want to see you race for FLEET FEET.  Just like Uncle Sam used to say in the military recruiting fliers...WE WANT YOU!  This is your chance to be a part of a team, to race against any and all comers on a level playing field, to challenge yourself to be better than you thought possible.  Straight from the FLEET FEET website..."The mission of the FLEET FEET Racing Team is to enhance the racing experiences of team members by providing them feedback on their performances, encouraging friendly competition and promoting team camaraderie."  Who wouldn't want to be a part of something fun like that?
How can you go race Johny Fastfeet from down the street on a level playing field?  Good question.  We use a scoring system designed by the World Masters Association that awards points based on age and gender.  We also break down our race categories by distances as well.  You may be a 5k fanatic, while your friend owns the half marathon.  With age-, gender- and distance-grading, you can actually see who's got bragging rights.  Also, who out there wouldn't love to be paid to race?  Well, if you race in one of our Racing Team tops and report your results to us, we'll consider you a "pro" and add $2 to a FLEET FEET gift card for each race you run.  Now, that's better than a poke in the eye with a sharp stick, isn't it?  Check out the Racing Team section of our website for more information on how to be a member of our team.  We couldn't have made it easier to participate.
I am recruiting you to be a part of our team.  I hope you choose to join us.  Good Luck and Happy Racing this year.