Humans are competitive by nature. The problem is that competition has developed a negative connotation. The fear of competition and how we—as competitors—will be perceived by others holds many of us back. Competition is a double-edged sword that can bring out the best and worst in us. As runners, we should strive to get the most out of our running. And to do so, we need to recognize the unhealthy aspects of competition and redirect them towards something more positive that will help us improve as runners and people.
"Racing teaches us to challenge ourselves. It teaches us to push beyond where we thought we could go. It helps us to find out what we are made of. This is what we do. This is what it's all about." (Patti Sue Plumer, U.S. Olympian)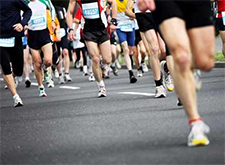 Signing up for a race is not about winning. It's about challenging yourself to be the best you can be. I used to tell my athletes that I can always find an athlete who can beat them; it's their job to make it harder and harder to do so. If we only race people we know we can beat, are we really doing anything meaningful? If we only aspire to victories that are all but guaranteed, will we ever really improve?
"Big occasions and races which have been eagerly anticipated almost to the point of dread are where great deeds can be accomplished." (Jack Lovelock) 
Competition is about growing and improving. It's not about getting angry when you fail. It's not about hating your competition. It's about striving to win in the context of your definition of what winning means on that day. For some, it's finishing the race. For others, it's hitting a certain time. Heck, it might simply be having the courage to sign up. We each have our own goals. We are competing with ourselves to achieve those goals.
"I also realize that winning doesn't always mean getting first place; it means getting the best out of yourself." (Meb Keflezighi)
A competitive person is one that accepts the risk of defeat and respects the challenge competition affords them. This is the opportunity to test ourselves against our own measuring stick. Toeing the start line gives us the chance to do something we were born to do: compete. 
Good Luck and Happy Racing!
Coach Cary
---
Tim Cary is FLEET FEET's Assistant Training Manager, coach of the FLEET FEET-sponsored Runnababez Elite team, and manager of the FLEET FEET Racing Team.  Over his 20 years of coaching, Tim has coached athletes to three national team championships, five national individual championships, two national records, and numerous All-American and All-State honors.  Click here to receive Tim's weekly article via email.