Every year, Fleet Feet Sports stores across the nation partner with Mizuno to identify runners in our communities who inspire others to be their best. We look for runners who serve as an inspiration by improving their health, overcoming challenges, doing charitable work, and rallying communities.  Of the many nominees we received in 2016, three St. Louisans were selected to receive The Power of Running to Inspire award.  This is the story of Mike Burke, who I nominated.  This article begins with an article about Mike written in March 2014 by Amy Marxkors, the author of The Lola Papers: Marathons, Misadventures, and How I Became a Serious Runner and Powered By Hope: The Teri Griege Story.  Following her article is an update in Mike's own words. - David Spetnagel, Owner, Fleet Feet St. Louis
---
I recently had the honor of meeting former Fleet Feet Training Team coach Mike Burke to discuss his upcoming book, Waiting to Die, Running to Live. I left the interview inspired and grateful for the opportunity to talk life, running, and the purpose behind it all.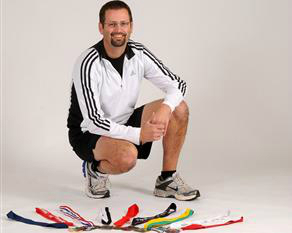 With his thick brown hair, pristinely coordinated beard, and streamlined glasses, Mike Burke harmonizes nicely with his coffeehouse surroundings. Flanked by cosmopolitan pillows, tattooed hipsters, and businessmen plucking away at their laptops, he waxes philosophical about oxytocin and the latest in neurochemical research. His legs are crossed, one hand on his knee, and a forgotten assortment of papers wait patiently on the armrest of his oversized leather chair, bravely withstanding the occasional threat of an errant left elbow. He speaks softly but with experience—and unmistakable enthusiasm. The casual observer would assume he is in the professorial métier. He simply looks like someone who should be talking about philosophy or the cosmos or, as it is in this case, neuroscience. Except he isn't. 
Mike Burke is a former hotel manager. He is a runner. He is a triathlete. And he is dying. 
Burke will be the first to tell you he's not a scientist or an expert in the medical field. Despite his familiar handling of cerebral terminology and psychological parlance, he'd rather not get technical. But while he may be a layman—he was a political science major in college—he has an intimate acquaintance with the concept of death, life, and the time in between. It is an education birthed not from books and hallowed halls, but from a four-decade-long case study: his own life. 
Burke was diagnosed with an incurable fatal genetic disease when he was fourteen months old. He wasn't expected to live past kindergarten. When he turned five, the life expectancy was seven. When he was seven, it was nine. By the time he turned nine, it was eleven. For thirty years, Burke lived with an expiration date. It hovered over him, just out of reach, casting a dark shadow that consumed every thought and action. 
The disease operates on a cellular level, attacking the foundation of the body's operating systems. The lungs and the pancreas are the most common targets. Breathing becomes extremely difficult as mucus builds up in the lungs and the body begins to suffocate. Violent coughing is a daily occurrence. Nausea and chronic fatigue are par for the course. The body loses its ability to break down nutrients, so diarrhea and ulcers are a constant threat. And because pancreatic function is compromised, many sufferers of the disease are also diagnosed with diabetes. 
In essence, Burke's body is trying to starve and suffocate itself. 
Knowing he was going to die, Burke embarked on a life of work, travel, and isolation. He soon became the youngest director of sales at Omni hotels.  He was good at what he did, and he enjoyed it. He worked seven days a week, traveling the country, arranging elaborate parties, and making sure guests were living every moment to the fullest. It was an ironic career for a man who was secretly dying—emotionally as well as physically. 
"I had a lot of fears and apprehensions," he says. "I lived every day thinking I had only two years to go. I was afraid I didn't have enough time. I was afraid of being alone, that no one would want to be with me because I could die. I didn't want to be a burden to others, financially or mentally." 
In 2000, he was asked to be the keynote speaker at a fundraiser for the disease. "I asked, 'Why do you want me to do it?'" he recalls. "And the guy said, 'Because you're alive.'" 
In preparation for the speech, Burke hopped on his computer and started researching the status of the disease. He found out the life expectancy had been raised to twenty-eight. 
He was thirty. 
"For the first time I was on the other end of the gun barrel," he says, shaking his head. "I realized I had wasted so many years thinking I was going to die the next year. I wasted so much energy, so much worry. I had been living like I only had two years to go, and I made some bad decisions because of it." 
It was a watershed in his life. For years he had ignored the disease. He refused to talk about his condition and took all inquiries as personal attacks. He isolated himself emotionally. He made the minimum effort required to stay alive. He exercised only sporadically, even though physical activity was vital to slowing down the deterioration of his lungs. Suddenly, free of the shadow that had haunted him his entire life, he realized he had been living in a self-constructed prison. If he were going to die, so be it. But he wasn't going to go down without a fight. 
"I was tired of thinking that way. It was wearing me out. I knew I wanted to take control of my life in a positive way, but I didn't know what that looked like." 
Burke quit his job and moved back to St. Charles, Missouri. He reunited with his family. He began talking about his disease and learned to deal with setbacks as well as progress. He opened up to family and friends. He even fell in love and got married. The walls he had spent years building were systematically torn down. 
And then he started running. 
He and his family were cheering on his sister-in-law who was running the 2000 Chicago Marathon. The elite athletes flew across the pavement with superhuman grace, contending for a spot on the podium. Then came the mortal masses, at first filtering down the course in small clusters and slowly swelling to a solid wall of humanity running, jogging, shuffling, lurching, and walking to the finish. Burke was enraptured by their determination. They weren't running to win. They weren't going to set any world records. But they were sacrificing mind, body, and soul on an asphalt battlefield just the same. Something else was driving them. Something more. Burke realized that what he was witnessing—a sense of purpose so deep that it propelled people to endure hardship, pain, and discomfort—was the key not only to running a marathon, but to life. 
"If people don't see a purpose in life, they can't live with purpose. People with chronic diseases, families with issues, kids with chronic illnesses—they need this. I know. I was there. I was the kid who thought he wasn't going to live long, so I didn't see a purpose in life. I didn't see why anything mattered if I was going to die in two years anyway." There is passion in his voice as he speaks, the kind that comes in the moments after a grand revelation, the shockwaves of an epiphany. "But you have to have purpose. You don't run a marathon unless you've got a goal. I will never win a race at the speed I run, so why would I run? Why would I keep competing? To the point of complete exhaustion? Of walking? Of falling over? You have to dedicate yourself to something." 
Burke began running. Only when he adopted the sport did he realize just how far the disease had progressed. His lung function was 80 percent of what it should have been. Often he would run a few steps only to stop to cough so hard he threw up. And his body's inability to digest nutrients meant that he often struggled with diarrhea. While he couldn't control his body—all the medicine and medication in the world couldn't prevent devastating infections or plummeting lung capacity—he could control how he viewed the situation. He persisted in running. 
Ten years later, Burke had completed nine marathons and over fifteen half marathons. What once had been a prescribed therapy had become a passion. 
But it was more than the activity itself that he loved so much; it was also the community of runners. Burke became a coach for the Fleet Feet Training Team. Coaching was the final step in overcoming his fears of isolation and rejection. Instead of being ostracized for his disease, he was embraced. 
"I was very open with my team," he says. "I was like, 'Look guys, I'm going to cough a lot, but I'm okay. It's just part of a condition I have.' And instead of being grossed out, people talked to me. We became friends. It is such a strong community. There is this common bond of training. Running helped me know I wasn't going to be lonely. People will engage me even though I spit up the most vile stuff in the world. If I was coughing more than normal, they'd check on me. Or they'd say, 'Oh, we didn't even notice.'" He shrugs with a self-deprecating smile. "Whether that was simply for my benefit or they really didn't notice, I don't know. But they never made me feel different." 
In 2011, Burke signed up for the Muncie 70.3 half Ironman "to keep things interesting." He was in excellent health. He was strong. But halfway through his training, his body revolted. His lung function plummeted to below 65 percent. In one week, for no reason, he had lost 15 percent of his lung function. He competed in the race anyway. 
"I could feel the effects of the disease," he recalls. "I was breathing hard at speeds I could previously run comfortably. I was coughing more at slower speeds, during both cycling and running." 
At mile four of the run, severely dehydrated, barely hanging on to consciousness, and unable to breathe, he had to drop out. 
But instead of letting the setback defeat him, Burke signed up for an Olympic distance triathlon. The goal was smaller than the 70.3, but it was still a goal. As he trained, his lung function stopped declining. Eventually, it even began to improve. By the time race day rolled around, he was breathing at 97 percent. Today he is running with over 90 percent lung function. His health may change tomorrow. It may change next week. It may be a year. But he doesn't worry about things that are out of his control. 
"'Count all trials as joy, because the testing of your faith produces endurance, and endurance will complete its perfect work,'" he says, paraphrasing the first few verses of the book of James. "Do you know the word 'perfect' means 'complete' and 'whole'? 
"Endurance is a verb," he continues. "It is an ongoing thing. 'Consider it joy, all your trials.' The most successful people see their challenges as gifts and blessings." He shakes his head and leans forward. He is enraptured by the concept. "I can't control my body, but I can control my thoughts. And now, for the first time, I can look at my trials with joy." 
Visit www.michaelpatrickburke.com to learn more about Mike and to order an autographed copy of his book.
- Amy Marxors, March 2014
---
Being named a winner of the The Power of Running to Inspire award is an honor.  After re-reading Amy's article and re-watching the PBS documentary about the Fleet Feet Marathon Training Program that included my story, I am reminded of the gifts that running and the community are abundant with.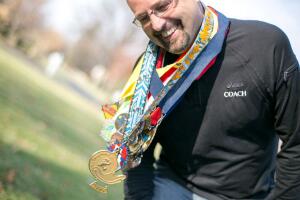 Currently, my body requires 13,000 pills and 500 hours of therapy just to live.  I continue to run despite my body working against the three obsessions of all runners: lung capacity, nutrition, and electrolyte balance.  Last year I completed a 100M hike - and running helped me train for that endeavor.  I've recently been hampered by an injury, but in 2017 I plan to race both sprint and Olympic distance triathlons.  And if my body does well, I want to get that 10th marathon under my belt.
My charitable work for CF continues.  My 100M hike raised $7000 in donations and the recent CF Cycle for Life was a fundraiser, too.  And I'm regularly speaking to CF parents groups, corporate groups, schoolchildren, and others helping them understand that the course they choose is dependent upon the challenges they set for themselves.  Running to Live is superior to Waiting to Die.
- Mike Burke, October 2016