Of everything we carry at FLEET FEET (and we carry a lot of awesome stuff), Honey Stinger Waffles just may be the most addicting.
We know. You're probably picturing a Denny's commercial and a stack of waffles eight inches high smothered in whipped cream and strawberries. But don't let the word waffle fool you. These light, thin, organic wafers are actually inspired by the stroopwafel, a traditional European treat over 200 years old and used by professional cyclists in the Tour de France as a delicious fuel source.
The stroopwafel originated in Gouda in the Netherlands (yep, also the birthplace of the eponymous cheese) in the late 1700s. The literal translation of stroopwafel is "syrup waffle," which pays homage to treat's creation. Legend has it a Dutch baker took the leftover ingredients from the day's baking—such as breadcrumbs, brown sugar, butter, and cinnamon—sweetened them with syrup, and cooked the batter in a waffle iron to make a paper-thin wafer. He then spread a light caramel syrup between two of the waffles to create a delicate wafer "sandwich." By the mid-1800s, over 100 bakeries in Gouda were making stroopwafels. By the time the 20th century rolled around, factories across Europe were baking the "syrup waffles."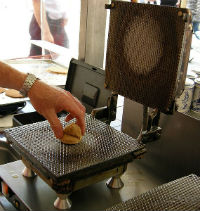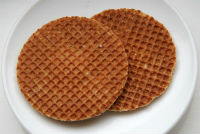 Honey Stinger, a sponsor of the Bontrager Livestrong Cycling Team, began producing their version of the European treat at the suggestion of Lance Armstrong, who ate the stroopwafels sold along the course of the Tour de France. Honey Stinger Waffles are now a staple of many professional cyclists, runners, and athletes across the globe.
FLEET FEET is proud to carry Honey Stinger Waffles in Original Honey, Strawberry, Vanilla, Chocolate, and Lemon (NEW!). $1.39 each. Stop by the store today and fuel your next run with a stroopwafel!