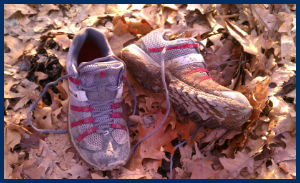 Every handyman knows how important it is to use the right tool for the job.  Using the wrong tool can result in an imperfect or incomplete project - and can also put the user at risk.  Sure, you can use an adjustable wrench as a hammer, but your birdhouse - and probably your thumb - probably won't look very pretty at the conclusion of the build.
At our Fleet Feet staff training sessions, we often talk about how it's our job to make sure that our customers have the proper set of tools in their "running" toolboxes.  Oftentimes, our customers aren't yet aware that a tool exists that is perfect for the job at hand (or foot).  Trail running shoes are an excellent example.  Sure, you can run on the trails in a pair of shoes designed for the roads, but you likely won't enjoy it as much as if you were in a pair designed for trail conditions - and you're likely to shorten the life of your road shoes, too.
Here are the six characteristics that define a full-featured trail shoe:
Protective Toe Bumper - A "trail shoe" with a soft and flimsy toebox should be kept on asphalt bike trails and never taken into the woods.  Trails are littered with rocks, logs and stumps.  Sooner or later, every trail runner is going to kick one...hard.  And for most us, that happens sooner...and often. A good trail shoe will have a reinforced toe bumper that protects the toes.  Because stubbing a toe really hurts!
Stone Bruise Protection - The typical runner loads the balls of their feet with five times their body weight 1500 times each mile.  When that information is combined with the fact that trails tend to be covered with hard, pointy rocks and stones it becomes apparent that trail shoes need some sort of forefoot protection.  An honest-to-goodness trail shoe will have a protective shield built into its forefoot.  This semi-rigid plastic or strong fabric plate will spread out the load when the runner steps on a sharp object, thus reducing the likelihood of it causing a painful stone bruise.
Low-Profile Midsole - It's no surprise that running on uneven terrain results in quite a bit of foot wobble and an increased risk of rolling an ankle.  The best trail shoes are built with a thinner midsole than most road shoes.  The result in a lower center of gravity and, therefore, increased stability.  The reduction in cushioning that accompanies the thinner midsole does not cause problems because trails - even rocky ones - are much more cushioned than asphalt or concrete. 
Quick-Dry or Water-Resistant Upper - There are two schools of thought among trail runners regarding moisture management.  The first is to embrace the mud and water-filled creeks, splash through them, and let the synthetic sock and shoe upper materials move the moisture away from the foot.  For runners who only have one pair of trail shoes, this is the optimum solution.  The second train of thought is to keep the water away from the foot in the first place by wearing a shoe with a water-resistant or waterproof upper.  This is an excellent option for runners who want a second pair of trail shoes for those cold, winter runs - even those on slushy streets when dryness and warmth trumps other considerations.
Aggressive Outersole - When running the roads, it's easy to avoid slippery conditions; just stay indoors or at least away from the gutters on rainy days.  Trail runners never know when things will get slick, so they always need to be prepared.  An outersole with a well-defined, sticky rubber

 tread that grips well on wet rock and dusty surfaces and in both mud and water is a must.

Gusseted Tongue - A gusseted tongue is attached to the upper of the shoe on its sides, in addition to the bottom.  As a result, trail debris is less likely to work its way down into the shoe and cause a blister issue or general uncomfortableness.  In shoes with a water-resistant or waterproof upper, the gusset also helps keep water from pouring into the shoe and negating the dryness benefits of the upper.
---
Along with wife, Debby, David Spetnagel opened Fleet Feet Sports in St. Louis in April 1993 after previously working as an aerospace engineer for NASA and McDonnell Douglas. David has since served as Senior Writer at Running Times Magazine, President of the St. Louis Track Club and of the St. Charles Runners Club, Executive Committee member of USA Track & Field's Ozark Association, and track and cross country coach at both the high school and collegiate levels.  Fleet Feet St. Louis has grown to include five stores and both training and race productions divisions.  A runner since 7th grade, David takes greatest pride in the streak of 1000 straight days of running at least 5K (3.1M) he completed in 2015.