Tifosi Sunglasses: New Colors!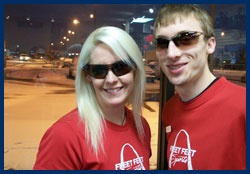 Tifosi is the Italian word for "super fan." A fanatic. That guy. Sure, other brands may make technical sunglasses, but Tifosi lives and breathes them.

We're pretty darn pumped about the new Tifosi shades Brian recently hand selected for our store. (The guy knows his stuff. He's an uber-athlete and 9-time Ironman.)

Slip ($59.95) We've brought in two new colors: Carbon (with Fototec lenses) and Mint.

DEA ($59.95) Check out the new, sleek Pearl White color.

Tyrant ($99.95) These babies are polarized and feature Fototec lenses. And the new Mocha color rocks.

Are you wondering what the heck "polarized" sunglasses do? Quite simply, polarized lenses are designed to eliminate the glare that is responsible for eye fatigue and decreased vision. Horizontal polarized light is blocked by the vertically-oriented polarizers in the lenses. The lenses "de-centralize" the light and eliminate optical distortion. Pretty cool.

Fototec lenses are lenses that darken when in contact with UV rays. Fototec lenses darken in about 12 seconds and return to normal color in about 2 minutes. Also pretty cool.