I forgot my glasses.  I FORGOT my GLASSES!  And I left them UPSTAIRS!!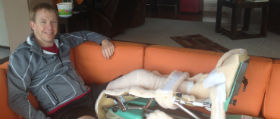 A week or more ago this wouldn't have been an issue at all.  I would've simply jumped off the couch, bounded up the stairs, and quickly retrieved my glasses.  But that was before the knee surgery that followed my failed attempt to cross over into the world of tennis.  While it's true that Dr. McAllister's skillful intervention will eventually allow me to run for many more decades, it has also temporarily removed the words "jump", "bound", and "quick" from my vocabulary.
I stare at the machine I just strapped myself into that is slowly bending and unbending my knee to assist the healing process.  How long will it take to get unbuckled - and later re-buckled - into this thing?  I stare at the stairs.  Can I hop up that many stairs or will I need to put on my cumbersome knee brace and hobble up them?  My answers to my questions aren't favorable so I yell, "Debby!  Will you bring me my glasses!?"  And I think to myself, "This moment is why Fleet Feet exists."
Just a couple of days ago, on April 12th, Fleet Feet St. Louis celebrated its 22nd birthday.  Running (perhaps mobility in its most pure form) is Fleet Feet's core enterprise.  But for more than two decades we have been helping all sorts of people maintain or improve their mobility, whether they be runners...or walkers...or simply those who want to be able to climb the stairs and retrieve their glasses without a thought.   We look forward to the next 22 years of helping people move more comfortably.
---
David Spetnagel and his wife, Debby, opened Fleet Feet Sports in St. Louis in April 1993.  There are currently six St. Louis locations.  Originally an engineer at NASA and McDonnell Douglas, David has since served as a Sr. Writer at Running Times Magazine and a track and cross country coach at both the high school and collegiate levels.  In early 2015 he completed a streak of 1000 straight days of 5Ks (or more).