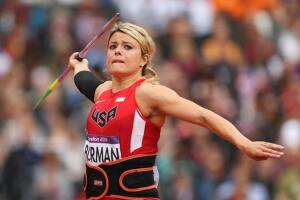 Boy, do I love watching the Olympics.  Not only are the Olympians amazingly athletic, but they are also incredibly dedicated and focused.  Lou Holtz once said, "Show me someone who has done something worthwhile and I'll show you someone who has overcome adversity."  
Take the story of Noelle Pikus-Pace.  She was an up and coming star in the skeleton heading into the 2006 Olympics - and then she was hit by a bobsled in a freak accident that broke her leg in multiple places.  Not only did she recover, but she become the best in the world heading into the 2010 Games - and then she finished just one tenth of a second out of the medals.  After the Games, she retired from skeleton and started a family.  As the 2014 Olympics approached, however, her family encouraged her to try again.  Noelle came out of retirement, balanced family and training, and earned a silver medal.
J.R. Celski was involved in a crash at the 2010 Olympic Short Track Speed Skating Trials that gashed his quadriceps almost to the bone.  He underwent emergency surgery that required 60 stitches and then attacked his rehab so that he would hopefully have a chance to compete in the Vancouver Games.  With the support of his physician, speed skating legend Eric Heiden, J.R. got most of his range of motion and strength back in time for the Games.  He not only competed, but medaled; not once, but twice.
At the 2012 Olympic Track and Field Trials, local athlete Brittany Borman was down to her final throw in the javelin.  She needed to throw further than she ever had to punch her ticket to the London Games.  With uncooperative winds throughout the day, it would have been easy to mentally surrender and let her body follow its lead.  Brittany, however, launched the javelin almost seven feet further than she ever had, setting the Olympic Trials record.  Her faith in herself  gave her the strength to attain her dream.
The road to achieving dreams is littered with shoulda, coulda, and woulda.  This winter has made it particularly tough to keep our chins up and maintain our "can do" attitudes.  It has been easier than ever to fall into the trap of giving in to the elements and the gloom.  This winter won't last forever, however.  Persevere!  Don't miss out on accomplishing your goal because you gave in too soon.  Take inspiration from these Olympians.  Learn from their lessons in intestinal fortitude.  The tougher the battle...the sweeter the victory!
Good Luck and Happy Racing!
Coach Cary