Every year, Fleet Feet Sports stores across the nation partner with Mizuno to identify runners in our communities who inspire others to be their best. We look for runners who serve as an inspiration by improving their health, overcoming challenges, doing charitable work, and rallying communities.  Of the many nominees we received in 2016, three St. Louisans were selected to receive The Power of Running to Inspire award.  This is the story of Meghan Mora, who was nominated by her mom, Jennifer.
---
"I would like to nominate my 12 year-old daughter, Meghan.  She has been running for a couple of years, now, starting with running 5Ks as part of the family running club (Team Camdoraz) and then joining her Jr. High cross country team.  She sets - and achieves - personal goals that are well beyond those I set at 12, which I find particularly inspiring because Meghan is very small for her age.  She's currently the size of an 8 year-old and doctors tell us she will only reach a height of about 4' 7".  As such, being involved in physical activities has always been a challenge for her.  Everyone else is always faster, better, stronger.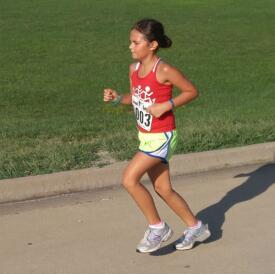 Her passion for running came through her school cross country team.  Two years ago, to get the team motivated, the coach gave them a goal of running 100 total miles over the summer months.  Meghan accepted the challenge and reached the goal.  Last summer, the coach created added a second mileage level: 200 miles.  Meghan met that goal, too.  This past summer the goals were the same, but Megan told me, 'I want to do 300.'  I thought that was a bit too much mileage, so we settled on 250 miles.  Yes, she reached that goal, too, and was rewarded with a cookie cake.
Meghan runs at practice.  She runs in the rain.  She runs in the cold.  She runs in the dark.  She even runs on vacations; this year she ran in hotel parking lots in Pittsburgh, Washington D.C, Baltimore, and somewhere on Ohio.  Many runs are done in the beam from the headlights of the "family support vehicle."
She has had days when she woke up and didn't want to run.  We all have those days. but when I ask her, 'Do you want to meet your goal', she suits up to run. That's inspiring to me.  There are times she has planned ahead to avoid the hottest weather or to allow her to sleep a bit more.  That's inspiring to me.  I have found myself keeping up with my own running just to keep up with her.  I run with her when she doesn't have cross country practice.  On the weekends we get up to run six miles together.
At 12 years-old, I don't think Meghan realizes how much she inspires others.  I believe Meghan runs because it's something she can control.  It's the way she deals with the physical challenge of being small.  But I have a front row seat to see what my little girl can do, but  I've also had other people come up to me to let me know they are inspired by her commitment, too.  I'm so glad that she has found running."
- Jennifer Mora
Editor's Note: Megan is finishing up her Jr. High cross country season and will be running the MO Cowbell Half Marathon relay as part of Team Camdoraz.