You know that person.  The one who improved his or her health.  Overcame challenges.  Raised money for charity.  Rallied communities.  All through running.  Mizuno has partnered with Fleet Feet Sports to recognize five inspiring St. Louis runners.  Janice Brock is one of those inspiring runners.  Here is her story.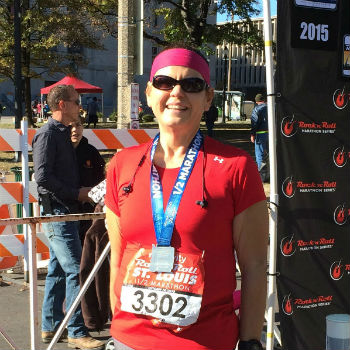 On any given Saturday morning you will see runners leave Fleet Feet's South County store for the weekly FFlyers 5 mile run.  Taken as a group, they look like most other running groups.  Within the group, however, is one runner who has worked very hard to fit so seamlessly into that group.  Janice Brock spent most of her childhood, adolescence, and adulthood overweight or obese.  Many times she tried to lost weight by trying different diets and exercise routines.  Although she would sometimes see some positive changes, the weight never stayed off.  
Several years ago Janice's employer started conducting health screenings and offering rewards for meeting certain health goals.  She decided, once again, that it was time for a change - and joined her local gym.  Along with her membership came one free session with a personal trainer.  She is still with that trainer, Brian.  After a year of training with Brian and eating healthier, Janice began to get stronger, faster, and healthier.
Janice's next challenge to herself was to become a runner - a challenge that became more difficult when she was diagnosed with diabetes.  Despite that setback, however, she worked up to running 1.5 miles at a time and set a goal to complete a 5K - and completed the Gumbo Flats Pumpkin Run.  Janice's entry into that race introduced her to Fleet Feet Sports - and Fit Professional Nelly Moore invited Janice to join our Saturday morning group.  The motivation and camaraderie provided by that group led Janice to run several 5K races...and then a 10K...and then a 10 Mile...and then to the 2015 Rock 'n' Roll St. Louis Half Marathon.  
To date, Janice has lost 96 pounds and has gone from a size 22 to a size 6.  She always has a smile on her face and strong determination. She is excited to be returning to her high school for her 25th reunion not only looking better, but also feeling better.  She inspires and encourages others through her own story, showing them that although it may seem impossible, their goals can be reached.