MYTH: 1 out of every 6 marathons goes according to plan. 
FACT: 1 out of every 7 marathons goes according to plan. 
This shocking statistic comes from extensive research conducted by yours truly. And by extensive research, I mean my personal marathon history. 
Side note: Did anyone else see the pot-bellied pig jogging down the course near Jefferson Lake in Forest Park? 
To clarify, in both cases—the 1-in-7 marathon and the pot-bellied pig—I am referring to the GO! St. Louis Marathon this past Sunday. Yes, there was a pig. And yes, for the first time in many tries, I ran a marathon without spending a handful of miles hoping to die. 
I only wanted to die on Market. 
Market will be the death of me, I swear. The most astonishing part about Market is that I always forget just how bad it really is. Some of my most notorious race pictures have been snapped on Market, after a mile of mountain climbing towards the Arch. The photographers are usually the Fleet Feet crew, exploding from their party tent to cheer me on and capture the moment on film. 
"GO AMY! GO AMY!" I hear them yelling as I make the left hand turn for a final ascent before the finish line. "You look great!" And then, as I pass, I can almost see them shake their heads in sympathy and whisper the truth: She looks terrible. 
Because, you see, I do look terrible. Market makes me look terrible. Every. Single. Time. I have not had a good jog up Market since 2008, when Jake first started coaching me and we ran through miles twenty-five and twenty-six, waving and laughing in what would be, until this past Sunday, the last marathon to go according to plan. Just two years ago, at the Rock 'n' Roll St. Louis Marathon, I smiled and waved for a greater portion of the race only to become despair incarnate at the Fleet Feet tent. Determined to redeem myself, I promised Megan—a faithful running buddy—that I would do my best to Glamour Shot as I ran by my friends. 
"Did I look better this time… a little?" I asked her after the race. 
"You looked strong… but like you wanted to cry. So… better!" she replied. 
"Baby steps!" I laughed. 
She continued, "I saw Jackie finish. That was amazing! She was smiling and waving!" 
Folks, Jackie Pirtle-Hall handily won the GO! St. Louis Marathon. But the most impressive part of all is that she did it while smiling and waving—no. She was radiating joy. 
On Market.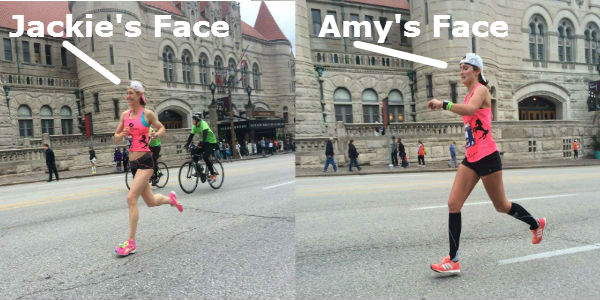 It is my dream, not to win a marathon, but to finish one while smiling and waving. Maybe it's just me, but the only thing I radiate when crossing a finish line is terrible. Because every single time I run a marathon—every single time—I am immediately rushed by medics who ask, in the same voice I imagine they use to calm someone wearing a straightjacket, "Are you okay? Are you sure? Do you need to sit down? Are you sure?" And every single time I respond, "I'm okay. This is just how I look." 
Once more, on Sunday, the first person to congratulate me after I crossed the finish line was someone who drives an ambulance for a living. And this was after a good race.  
Despite the rough homestretch, the race was the coveted one in seven. I goofed around with Jackie in the start corral before the race. On the second bridge—heading back into St. Louis—I met Chris and Casey, whose names coupled together sounded very much like a morning radio talk show. At the halfway point, I ran with Charlie, who is from England but lives in New York. He is running a 15K in Prospect Park in Brooklyn this weekend, and because last fall I ran the Brooklyn Marathon—which is held entirely in Prospect Park and boasts a nine-loop course—I was quite the expert to forecast his experience. "You're gonna love it!" I assured him. 
But what truly made the race special were the cheers and waves and shouts of encouragement supplied by fellow runners, volunteers, and spectators. I will forever maintain that there is nothing—nothing—like a local marathon to humble and inspire. Seriously. I was brought to tears by the outpouring of support that took place over the course of twenty-six-point-two miles. It was amazing. It was overwhelming. It was so fun. To everyone who yelled, waved, shouted, and cheered: thank you. You guys are literally the coolest people ever. 
After the race, as I sat at Mission Taco, ordering a burrito the size of a football, I thought about what a rare morning it had been. Despite the sketchy weather, despite the wind, despite a lingering cold that had sidelined me in the week leading up to the race, and even despite Market, the day had been just about perfect. 
And that's when I realized I had left my racing flats in a changing tent by the finish line.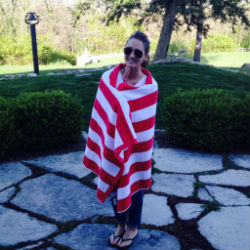 Nevertheless, the marathon high was so complete I didn't mind driving back downtown to retrieve my shoes just as the race crews were tearing down the tent. In fact, the marathon high carried me to Costco, where I met my family and found what, at the time, struck me as the finest beach towel ever made. 
Come to think of it, the marathon high must have hit me harder than I thought, because there were a lot of things at Costco that day that struck me as the finest products ever to be manufactured and sold in bulk. A ten-pound bag of Cheerios. Some potted shrubbery. A pile of unique khaki "Ladies' Pants" with many, many pleated pockets. 
That's the thing about marathons that actually go as planned (or better). When the rate of incidence is only one out of seven, unfamiliarity alone means the high is gonna hit you pretty hard.   
Just remember this if you choose to go to Costco afterwards.
---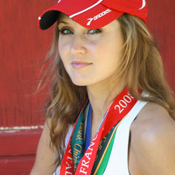 Amy L. Marxkors is the author of The Lola Papers: Marathons, Misadventures, and How I Became a Serious Runner and Powered By Hope: The Teri Griege Story.  Click here to receive Amy's weekly article via email.