Oh where have you gone 10K? Maybe it's just me waxing nostalgic, but doesn't it seem like the 10K has become the redheaded step child of the racing world? There are multiple 5Ks every weekend. The half marathon is rapidly becoming a favorite in the running community, and the marathon is, well, the marathon. It's the granddaddy bucket-list race for most runners. But the 10K has gone from the 5K's wingman to that odd distance that no one trains for or knows how to race. The new breeds of races—color runs, foam runs, warrior dashes—have relegated it to obscurity. It's as if the 10K has been put in a witness protection; they're that few and far between. 
Let's save the 10K from extinction. It is a fantastic race, one that deserves a place at the table. The last time an American won an Olympic event on the track further than half a mile was the 1964 games,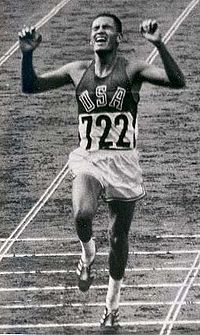 when Billy Mills pulled off one of the greatest upsets in Olympic History. 
Guess what event he won?
That's right. The 10K. Running 6.2 miles is nothing to sneeze at. It's far enough that we need to have a fair fitness level to complete it, but short enough that we have to push ourselves out of that comfortable conversation speed to compete in it. It's a great balance of speed, strength, endurance, heart, and guile. If you really want to find an event to test yourself, race a 10K.
The 10K is also an excellent race to test your half marathon preparations. Many full marathoners will run a half a few weeks or months out from their goal race. But what fits for half marathoners? The 5K is too short. Heck, we're barely warmed up by the time we're done. The 10K works out amazingly well for us to test our fitness level as we hit the final stages of training for a half. It's just far enough to get a good feel for the effort of racing a half. It's also not so long that we miss out on valuable training time while we're recovering.
So where can you find this unicorn of a race? Well, let me tell you. There are a couple of fantastic local 10K's coming up that fit perfectly into any fall half marathon training program. 
September 1st – The JCC Labor Day Run has a tough, hilly 10K that will challenge and prepare you for a course like the Rock 'n' Roll St. Louis Half Marathon. 
September 6th – The Unigroup 5K/10K for the United Way has a flat and fast course through Fenton City Park to help get your legs ready to blast a fast half.
The 10K is an enigma. It takes about an hour to complete and a lifetime to master. Perhaps that is one reason why it has become a forgotten distance. But the 10K just may be that key cog in your training to help you take down some PRs this fall. 
If you are looking for a race that will challenge your endurance, your speed, and your will, then take the time to tackle a 10K. Learn to appreciate this special distance.
Good Luck and Happy Racing!
Coach Cary
---
Tim Cary is FLEET FEET's Assistant Training Manager, coach of the FLEET FEET-sponsored Runnababez Elite team, and manager of the FLEET FEET Racing Team.  Over his 20 years of coaching, Tim has coached athletes to three national team championships, five national individual championships, two national records, and numerous All-American and All-State honors.  Click here to receive Tim's weekly article via email.