It's the final countdown... What better way to get revved up for this week's Rock 'n' Roll festivities than with a nod to that classic 80's rock band, Europe? With many a runner around the area preparing for a 5K, half, or full marathon, let's count down some tips to help you have a great experience on race day. 
The Hay Is In The Barn
You've done all the work, so now it's time to rest and let your body recover, refuel, and rejuvenate for race day. There are no fitness gains to be made over the last week, so if you're going to make a mistake during your taper, do too little rather than too much. Get sleep, try to stay off your feet as much as possible, and just chill out. Remember those long run mornings when your alarm would go off and all you wanted to do was curl back up and sleep? Well, now you get to do just that (except for race day, of course)!
Same Old Same Old
As the old saying goes, "Nothing new on race day." Now is not the time to test anything new. You know what your stomach likes; no new restaurants the night before or new breakfasts on race morning. Stick with what you know, because what you know has gotten you through training. Along the same vein, now is not the time to try a new flavor of gel or electrolyte drink. Don't test your GI system during the race. Now is also not the time to wear the brand new shoes or outfit you bought at the expo. Save the outfit for your post-race fiesta. Plus, it'll be nice to get out of your sweaty, salt-encrusted clothes and into something warm and dry.
Top It Off
As we discussed in the point above, now is not the time to add something new into your diet. It is, however, the time to make sure we fuel up for the challenges ahead.  Many people worry about gaining a couple of pounds during the taper. Well, of course we should add a couple! A full gas tank weighs more than an empty one, right? We have been beating our body up throughout training. Now is the time to top the tank off with as much fuel as it can handle. That doesn't mean gorge yourself on everything in sight. It simply means eat smart, eat normal, eat healthy... and put the scale away for a week or so.
Bottoms Up
Hydrate, Hydrate, Hydrate. Hydration not just a race day or mid-race issue. Make sure you're drinking plenty of fluids throughout race week. The better hydrated you are, the better your body will transport fuel to your muscles, carry waste away from your muscles, and keep you cool—making the race a much smoother event. During the race, drink to thirst. You don't need to start guzzling so much that you spend the entire race in a porta-potty. When you get to a water stop, grab a cup or two and make sure to get some fluids in.
Be A Boy Scout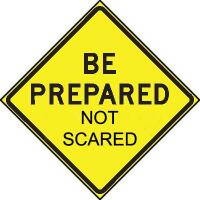 Always Prepared. Now is the time to plan. Plan your trip to the expo and how long you'll be there (not too long). Review the course map so you're comfortable with it and know some landmarks in the last third of the race to help you know when you're closing in on the home stretch. Plan where you're going to park, and find out how much it'll cost. Plan when you'll get to the race. Make sure to leave plenty of time for traffic, parking, waiting for the bathroom (maybe a couple of times), and getting settled into the corral without feeling rushed. Plan when and where you'll meet with friends and family. Set a place that's easy to find but just a bit less than obvious. (The obvious meeting spots will have everyone meeting there, and therefore will make it even harder to find your crew.) Plan your outfit. Lay everything out the night before. You'll want to make sure the bib is already pinned to your base layer—the one you'll the whole race. Have your throwaway clothes prepped and ready for tossing as you warm up. (DO NOT to pin your bib to your throwaway clothes!) Have your Run Guard, Nip Guards, sunglasses, and all your little necessities laid out with your clothes. Plan your breakfast and have it prepped and ready to roll the night before as well. Being prepared will help alleviate race day stress.
Hakuna Matata
As Timon and Pumba would say, "No Worries." Focus on what you can control. This is not the time for "what if" games. What if it's raining? What if the pacers are off? What if I get struck by lightning? We can come up with "what ifs" all day long. In the end, they just create stress and sap us of energy. Trying to control too much can lead to paralysis through analysis. By simply relaxing and focusing on the things within your control, you will have a much happier, much more productive race day. The work's been done; don't trip over the rock that's behind you.
This is an exciting time. You are ready to roll. Just follow these simple tips, and you'll be prepared for success. As that 80's Swedish rock band would sing, "It's the final countdown..."
Good Luck and Happy Racing!
Coach Cary
---
Tim Cary is FLEET FEET's Assistant Training Manager, coach of the FLEET FEET-sponsored Runnababez Elite team, and manager of the FLEET FEET Racing Team.  Over his 20 years of coaching, Tim has coached athletes to three national team championships, five national individual championships, two national records, and numerous All-American and All-State honors.  Click here to receive Tim's weekly article via email.