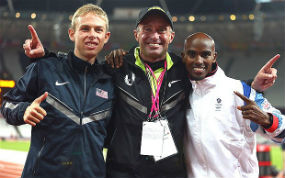 Runners tend to be creatures of habit.  We routinely run similar routes over common distances at our typical paces.  Routine?  Similar??  Common???  Typical????  Why are we such creatures of habit when every year we set out to achieve goals NOT described by any one of those words.  We dream of what "could be" while continuing the patterns that keep us where we are, now.  And that's not where we want to be. 
"Insanity: doing the same thing over and over again and expecting different results." - (likely mis-attributed to) Albert Einstein
If you want to do more than dream about accomplishing your goals, take the next step towards excellence and sign up for a FLEET FEET Training Program.  Having a coach that helps you focus on the forest rather than the trees is invaluable.  Yes, there's a reason Olympic medalists Mo Farah and Galen Rupp and others migrate to Portland to train with coach Alberto Salazar.  It's not like they don't know how to run.  They need a coach to help them tackle the same dream as you: to improve and become a better runner  They need a coach to make them do what they don't want to do; to give that push when they need one.  And just as frequently they need a coach to throttle them back and keep them from pushing too hard, too often.  In short, having an educated, experienced third party to guide you sets you up for success.
 
The New Year starts now.  Now is when you set your goals, make your plans, and lay the foundation for 2014.  I encourage you to add a FLEET FEET Training Program to your 2014 plans so we can help you get you achieve your running dream.  No more routine...or similar...or common...or typical.  Now's the time to dream...and excel...and accomplish...and enjoy.
Good luck and Happy Racing!
Coach Cary