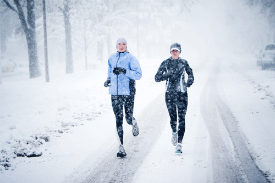 Well, we're into it now, aren't we?  Ol' Jack Frost has come nipping at more than just our noses.  Winter is when our go-to list of training partners shrinks - or when we tend to slack off from running, ourselves.  Once the mercury drops towards the southern end of the thermometer the roads and trails become much less crowded and, when you can count the degrees Fahrenheit with your fingers, even desolate.  Yes, winter does have its obstacles to overcome, but it can also be a fantastic time to experience running in a whole new light (or dark, since it's always dark out now).  
Winter is the time when spring and summer PRs are achieved.  It's the time to appreciate the crunch of fresh snow beneath your feet.  It's when your normal routes take on a new look.  It's a time to appreciate those running friends that will be by your side throughout every season.
 
Here's a quick guide to help make the bite out of frosty winter air.
---
How Much to Wear
 
Here is a great template for cold weather dressing, courtesy of Runner's World:
above 20 degrees: 2 tops, 1 bottom. Long-sleeve base layer and a vest keep your core warm. Tights (or shorts, for polar bears).
10 to 20 degrees: 2 tops, 2 bottoms. A jacket over your base layer, and wind pants over the tights.
0 to 10 degrees: 3 tops, 2 bottoms. Two tops (fleece for the cold-prone) and a jacket. Windbriefs for the fellas.
-10 to 0 degrees: 3 tops, 2 bottoms, extra pair of mittens, 1 scarf wrapped around mouth or a balaclava.
below -10 degrees: 3 tops, 3 bottoms, 2 extra pairs of mittens, 1 balaclava, sunglasses. Or stay inside.
Obviously, we all handle the cold a little differently, but this template is a great starting point.  Our Fit Professionals can explain all of the cool (uh...warm, actually) technology that goes into our apparel and how it will benefit you.  If you haven't tried on some of the new things out there, you will be amazed at how lightweight, warm, and soft apparel winter apparel has become. 

---
See and Be Seen
 
Reflectivity and lights are absolute requirements for the winter runners.  During winter, it gets dark early and stays dark late.  It is our responsibility to make sure that we are seen.  Drivers aren't used to looking for runners on their way to or from work.  Wearing highly reflective apparel and accessories and blinking lights helps us catch a driver's attention and will keep us from being run over by a reindeer (like poor grandma).
 
Also, none of us wants to do a face plant because we couldn't see the running surface.  Headlamps and handheld lights are hugely helpful this time of year.  They will help you spot things that may trip you up, catch the shimmer of an icy patch, and make you even more noticeable to drivers.

---
Bring the Right Tool for the Job
 
The ever-changing landscape of the winter season makes it fun to see what's new, but it's also a challenge to always be prepared for the wide variety of conditions.  Here are some of the most frequently overlooked tools:
Hand warmers are worth their weight in gold when it's frigid out.  Carry them in your gloves - or even in your socks and/or shoes.  Keep a stash in the dash to help in a pinch.
Windbriefs, as I've mention before, are a lifesaver on cold, windy days.  Another trick of the trade for such days is to run against the wind on the way out - and with the wind on the way back.  That'll help cut down on the wind chill after you've started accumulating sweat. 
There is no time like winter to put some miles on your trail shoes.  Trail running in winter is breathtaking.  It can also be foot damaging (if you're running in road shoes).  Roots and rocks and the ground all become one big, frozen chunk looking to stun your toe.  The bumper of a '57 Chevy has more give than anything frozen to the ground at this time of year.  The toe bumper and underfoot rock plate found in most trail shoes offer a level of protection you won't find in your road shoes - and the added traction is a benefit, too.
Speaking of traction, when the precipitation accumulates in piles along the trails and sidewalks, Yaktrax do a great job keeping you from looking like your dog trying to run on the tile floor.  They work similar to tire chains for cars.  They slip over your shoes and give you that extra traction you need.
---
Find a Friend and Make a Plan
 
Give in to running peer pressure to help you stay motivated.  Find those runners that don't hibernate through the cold months and make plans to meet them for runs.  Be specific with times, places, and running routes to help reduce excuses.  Run for minutes rather than miles.  Paces vary as much as the weather at this time of year.  If you don't worry about exact speeds and distances, you'll be able to enjoy the scenery more.  If you need to find some other fun folks that enjoy running all year long,
FLEET FEET's social runs
are the place to look.
---
Utilize these quick suggestions and come by your neighborhood FLEET FEET for answers to your winter running questions.  We'll help you enjoy a whole new season.  Also, don't forget that Christmas is dead ahead.  Come grab your running gifts before they're gone.  Be the safe and warm member of your group this winter as you enjoy this often forgotten time of the running year.
 
Good luck and Happy Racing!
Coach Cary