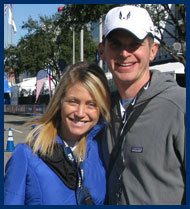 St. Charles native Jackie Pirtle-Hall recently competed in the Women's US Olympic 
Marathon Trials in Houston, Texas. She ran 2:44:22 for a 70th place finish in a field of 
over 190 runners.
The 29 year-old, who is married and has a three year-old daughter, is the ACT Prep 
instructor and grammar teacher at McCluer North High School. She recently took 
time out of her busy work and training schedule to share about her experience in 
Houston racing with the country's fastest female marathoners!
FF: When did you start running?
JPH: I started running in 6th grade for the Cyclones running club. The first time I 
ran a cross country race at McNair Park for the Cyclones, I threw up, passed out, got 
back up, and then started running the wrong way. It was only 2.5 miles! I have come 
a very long way. I decided to run cross country my sophomore year of high school. I 
didn't know what to expect of myself, but I ended up running away from the field in 
the first 100 meters and not looking back for the win. I was hooked.
FF: Did you play any other sports growing up?
I played everything for about a second. By the time I asked to join the Cyclones, my 
parents were pretty reluctant since I wanted to try everything. But they conceded 
and were probably happy I stuck around long enough to even wear the uniform.
FF: What was your first marathon?
I stopped running for about two years, but decided to start again because I missed 
the discipline and structure it provided me in life. My husband and I used the St. 
Jude Marathon as an excuse to visit Memphis for the weekend. We didn't train too 
much for it. We just wanted to run. It was December of 2007. We were driving to 
the race, and I was reading Joan Benoit Samuelson's book on women's marathoning. 
I said to my husband, "I can do this. I want to do the whole marathon. I will walk 
if I have to, but I am switching [to the full]." So I did. I had a blast and ran 3:16. I 
had never run over 13 or 14 miles at a time at this point. I just paced myself and 
remembered all the tips Joanie gave in her book.
FF: Was running in the Olympic Trials a goal of yours?
Yes! I had [daughter] Samantha on November 27, 2008, and four weeks after 
I started training for the GO! St. Louis Marathon that April. My coach, Sheldon 
Webster, and I have been planning this since then. I remember when he used to 
talk about 2012, and it seemed so far away. I never really thought I would actually 
do this until 2011 came around. I began feeling like [running in the Olympic Trials) 
wasn't a maybe but a must. I wouldn't give up unless I tried my very best. I needed 
all that time to grow as a runner. And nothing like last minute—I qualified in 
December, just weeks before the [qualification] cutoff. I felt so emotional after 
crossing the line at CAL International. I felt like I finally got my reward for all this 
time and thinking and planning for my running. It was all worth it.
FF: What was your favorite part of the event?
Seeing all of my running idols. It was so great to be a part of such a prestigious 
event. I was just so happy to be there. I had no pressure. [I could] just enjoy it 
and run. I also got to meet so many amazing women runners while I was trying 
to qualify. I met women from Cleveland, Chicago, and California International
marathons. It was nice to share the experience with other women who also 
sacrificed to get to the race.
FF: What was it like at the start line?
My eyes watered a bit. Not too much, but just a little. I felt overwhelmed when 
Esther Erb, a runner, sang the national anthem, and they called us to the line. I was 
thinking how grateful I was to be alive and to share such a rare experience with the 
other 191 ladies that were lining up all around me. I was thinking of my husband, 
who is such a great daddy and so supportive of me and my running, and my baby 
girl, who I want to grow up in a healthy and happy home where exercise and 
happiness are surrounding her. I thought of my parents, who have done everything 
to help me get there, and my big sister and brother, who I train with at Emerge 
Fitness. [I was thinking of] my whole family and all of my amazing friends. I am so 
blessed.
FF: What did you think of the course?
It was a loop. [I] loved it. I was able to see my husband, mom, sister, and Aunt 
three or four times. (And they saw me more than that!) It had a few hills, but I liked 
it. When I go 26.2 miles on a completely flat course, my hips start to lock up, so a 
rolling course is better for me.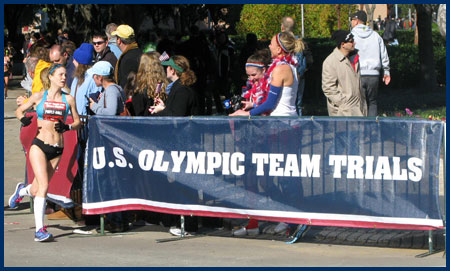 FF: How did your race go?
I was smiling most of the time, and I was soaking it all up. It was the best race I have 
ever run. Seeing all of the spectators and all of the signs saying, "London Calling!" 
and "Olympic Trials" was surreal. I ran with a woman from California, and about 
six miles in I said to her, "Wow! Are we really running in the Olympic Trials?" I had 
just realized it. The woman I ran with kept passing people. I said to her, "You are a 
passing fool!" She laughed and said, "You have to." So, I just went with her. At mile 
twenty-two, I had to leave her, but I kept her with me by saying to myself, "Keep 
passing." I passed the entire way. When I saw my mom and sister about 200 meters 
from the end, I cried for a second and then sprinted past another runner. I was so
happy to run a PR. It was a small one, but [I was] happy since my last marathon was 
just six weeks before. I ran 2:44:22.
FF: What are your training goals from here?
I am doing a half marathon in Virginia Beach on March 19 as a tune-up race before 
the GO! St. Louis Marathon. I would love to win a marathon in my hometown! But, 
no pressure, of course. As long as I am having fun, I will do fine.