The FLEET FEET Racing Team hit the roads these past few weeks.  Yes, in a literal sense, but also in the figurative one as well.  A few Racing Team members, apparently tired of the assorted rain, sleet, and snow pelting them, headed out of town for their race fix.  So, just as The Wide World of Sports used to say, "Spanning the globe to bring you the constant variety of sport... the thrill of victory... and the agony of defeat... the human drama of athletic competition," I bring you the FLEET FEET Racing Team abroad: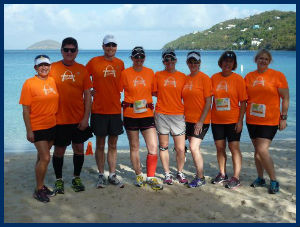 First off, possibly the coolest (or warmest) one was in last week's newsletter, where seven of the FLEET FEET Training Team coaches enjoyed a Caribbean Islands Marathon Cruise.  Over the course of the vacation the cruisers participate in four events whose cumulative distance totals 13.1 or 26.2 miles.  I'm just curious if YakTrax help out in the sand?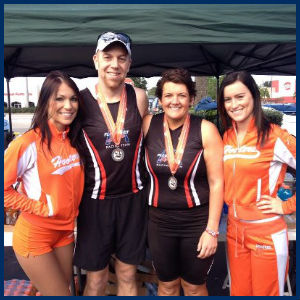 As we travel further up in latitude, Shelly and Arick Tuhro decided to enjoy beautiful and sunny, Fort Meyers, Florida. As a fun get away from crazy work trips and gloomy winter weather, the Tuhro's couldn't help themselves and had to partake in the Hooters Half Marathon.  As one of our Half Marathon Training Team coaches, I'm sure Arick enjoyed the scenery more than the previous week's icy run through Carondelet.  Shelly, having just returned from a business trip that would be a great plot for another National Lampoons movie, busted out a new half PR.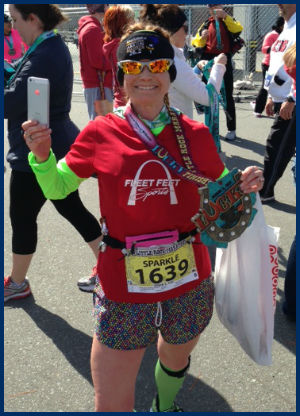 Finally, anyone who goes by the name of Sparkle has to go with big bling.  And there isn't a medal out there that's bigger and more sparkly (see what I did there?) than the one for the Little Rock Marathon.  Sparkle shot us this pic of herself after the race with her well-earned hub cap-sized (well, almost) medal for conquering the 26.2 mile course. 
We look forward to our FLEET FEET Racing Team members showing up at The Run For the Helmet St. Paddy's day race.  Be sure and stop by the FLEET FEET bus to say "hi" and socialize a bit.  Also, just as George Clooney took pics of a cutout of his sister and brother-in-law in different places around the world in the movie Up In The Air, please send us a pic of you sporting your FLEET FEET St/ Louis gear wherever you race.  You never know; you just may make it in a future article. 
Good luck and happy racing.
Coach Cary