Wouldn't it be great if we could invest ten dollars today and withdraw a million tomorrow? There are only two ways we can make that happen: win the lottery or rob Fort Knox. (I wouldn't suggest either of those propositions, by the way.) 
But while that scenario seems quite far-fetched, why do we expect similar results in our training? In our immediate gratification society, we want everything now. In our nanosecond attention spans, we find newer, quicker, more efficient ways to accomplish tasks everyday.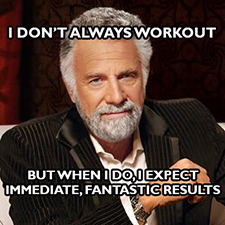 The problem is that when it comes to training, there are no shortcuts. 
Training is like stacking paper. Every day, we add just a little bit more to our stack. Through dedicated, continuous effort, we will gradually see our training grow. To reach great heights, we have to stack a lot of training together.
As a coach, I look at a training block of 8-10 weeks as simply one small step in the journey of an athlete. To truly see results, we must continue to add step upon step. Alberto Salazar once talked about Dathan Ritzenhein's preparation for a marathon as being behind schedule, even though Dathan had logged a solid 16-week training cycle leading up to the race. Alberto pointed out that while Dathan had logged 16 weeks of marathon training, he hadn't been able to accumulate 16 weeks of preparation for the 16-week training cycle. In other words, Dathan didn't have his paper stacked high enough to reach the goals he wanted.
I love my DVR. I get to watch shows I miss and then fast forward the commercials. The capabilities of a DVR provide an excellent example of our "Short Attention Span Theater" mindset, the mindset that drives all kinds of fad training methods. Trying to fast forward through training though sets us up for failure. We can't log 16 weeks of training in a couple of weeks. If we miss a day, we can't go back and redo it. We simply must continue to go from where we are. If we do try to force the training pace, we are forced to take shortcuts.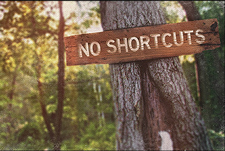 And those shortcuts will catch up to us. It may not happen immediately, but when it does, our shaky foundation will hurl us right back to first corner we cut. As John Wooden said, "If you don't have time to do it right, when will you have the time to do it over?" 
As I said earlier, there are no shortcuts in training. There are no short cuts to achieving anything worthwhile in life. It is through hard work and dedication that we build value in reaching our dreams. Boomtowns pop up overnight; but Rome wasn't built in a day. Which of those places would you rather be? Which is more magnificent and awe-inspiring?
Take your time and lay the foundation you need to develop. Take a measured, gradual view when looking at training, and you will achieve some amazing results. 
Good Luck and Happy Racing!
Coach Cary
---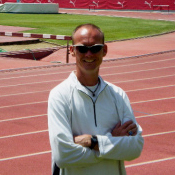 Tim Cary is FLEET FEET's Assistant Training Manager, coach of the FLEET FEET-sponsored Runnababez Elite team, and manager of the FLEET FEET Racing Team.  Over his 20 years of coaching, Tim has coached athletes to three national team championships, five national individual championships, two national records, and numerous All-American and All-State honors.  Click here to receive Tim's weekly article via email.