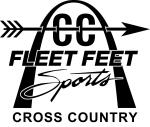 Cross country is a sport and, like any sport, equipment matters.  Well-chosen training and racing shoes directly translate into improved performance.
Training Shoes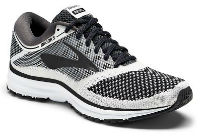 The typical high school or college cross country season is slightly over three months in duration.  During that period of high-intensity training and racing, the body is subject to tremendous loads and torques - and a significant injury risk.  The primary purpose of a training shoe is to provide a protection level that will allow you to train hard while remaining injury-free.
The best way to ensure that you have an appropriate training shoe is to visit your local specialty running store for a professional fitting.  Be sure and tell your fitter that you are a cross country athlete and describe your injury history, if any.  The fitter will then assist you in finding a well-fitting shoe that is well-suited for a short season that consists of multi-speed training on varied terrain.
If you must fit yourself, you can minimize your risk by purchasing a functional running shoe that fits your feet well.   Ignore styles that are selling for less than $100 since many styles at lower price points use lower-quality materials that provide minimal protection and durability.  Examine each style by first grabbing it around the back of the heel and pushing the toe straight into the ground.  The shoe should bend in the front, where your foot bends, but not in the middle, where your foot doesn't.  Then, ensure a proper fit by tying and then standing in both shoes and checking to see that the widest part of the ball of your foot sits in the widest part of the shoe, that you have a thumbnail's length between your longest toes and the end of the shoe, and that the midfoot fit is comfortably snug.  Finally, make sure that you feel some support under the rear portion of your arch, under your ankle bone.   Steer clear of both overbuilt and underbuilt shoes.  Cross country athletes don't need a shoe designed for a year's use of slower running on concrete roads.  Alternatively, training shoes that do little more than cover your foot have no ability to absorb impact loads or reduce unwanted twisting.
Racing Spikes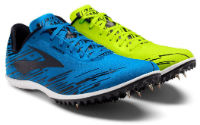 Only on race day is it acceptable to throw caution to the wind and choose performance over protection.  Cross country racers are designed with that philosophy in mind.  There are only two ways to run faster: (1) increase your cadence or (2) increase your stride length.  Switching from a training shoe to a cross country racing shoe is guaranteed to result in both.  A cadence increase results when a lighter shoe is worn – and the typical cross country racing shoe is 1/3rd lighter than the typical trainer.  Stride length also increases as shoe weight decreases – and as traction increases, as well.  Cross country racers provide excellent traction through the use of aggressive outersoles and 1/4" replaceable steel spikes.
There is little to no performance difference between the various cross country racers.  When shopping, therefore, choose based on fit.  Try each racer on with a thin, synthetic sock and choose a style that fits like a glove from heel to toe, with no pressure points.  When standing, make sure that there is half a thumbnail's length between your longest toe and the end of the shoe.
Conclusion
To race at your best, you need to be able to train consistently at a high level and carve every second off of your race times.  A protective, versatile everyday shoe and a performance-driven racing spike will put you in position to do both.
---
Along with wife, Debby, David Spetnagel opened Fleet Feet Sports in St. Louis in April 1993 after previously working as an aerospace engineer for NASA and McDonnell Douglas. David has since served as Senior Writer at Running Times Magazine, President of the St. Louis Track Club and of the St. Charles Runners Club, Executive Committee member of USA Track & Field's Ozark Association, and track and cross country coach at both St. Charles West and Lindenwood University.  Fleet Feet St. Louis has grown to include five stores and both training and race productions divisions.  A runner since 7th grade, David takes greatest pride in the streak of 1000 straight days of running at least 5K (3.1M) he completed in 2015.