Today, American youth are in worse shape than at any other time in history. The rates of childhood obesity and associated health issues are not only at record highs, but are accelerating with no signs of slowing down. According to the U.S. Center for Disease Control and Prevention: 
Childhood obesity has more than doubled in children and quadrupled in adolescents in the past 30 years.
The percentage of children aged 6–11 years in the United States who were obese increased from 7 percent in 1980 to nearly 18 percent in 2012. Similarly, the percentage of adolescents aged 12–19 years who were obese increased from 5 percent to nearly 21 percent over the same period. 
In 2012, more than one-third of children and adolescents were overweight or obese. Overweight is defined as having excess body weight for a particular height from fat, muscle, bone, water, or a combination of these factors. Obesity is defined as having excess body fat.
Is this really news to anyone though? We have been heading down this track for years. We can blame all sorts of things: video games, poor diets, less physical activity in school, etc. But rather than point fingers, let's do something to turn things around. One of the best things we can do is introduce our kids to healthy lifestyles—and live those lifestyles ourselves.
Running is an excellent way for our children to grow and develop healthy daily and lifelong routines. The physical benefits of running include (among other things),
A stronger immune system. The body's ability to fight disease is improved, helping children be less prone to colds, allergies, and diseases.
A reduction of type 2 diabetes by increasing insulin sensitivity and improving carbohydrate metabolism. 
A lower blood pressure and an improved cholesterol profile.
A strengthening of the entire cardiovascular system, including the heart and lungs. 
Increased bone development. After adolescence, it is difficult to significantly increase bone strength. You can begin exercising as an adult and dramatically improve your cardiac fitness and muscle strength, but the same doesn't apply to the bones. Bone strength that goes undeveloped in early years can lead to osteoporosis many decades later. 
Another aspect of regular fitness, one that is not praised enough, is that moderate to vigorous physical activity increases academic performance. Studies have show that students who participate in regular physical activity perform better, on average, than those that do not. Scientists have several theories as to why that is the case, such as better focus and alertness, improved blood flow and nutrient distribution to the brain, and experiencing the value of hard work and the benefits of investing now for rewards that come down the road.
Besides the physical and educational benefits of running, there are loads of emotional benefits as well. Running 
Eases stress and anxiety.
Reduces tension.
Lifts mood and relieving depression.
Increases self-esteem.
Improves sleep. 
Boosts energy.
Improves the ability to cope. 
So why is it so hard to get kids running? Most of us were introduced to running as a form of punishment. How many of you still shudder when you hear a coach or athlete mention running "mountains" or "suicides?' Why would anyone want to voluntarily do something that's packaged so negatively? We simply need to introduce running in a different light. Here are some ideas to help make running a fun and fruitful endeavor for your child. 
Make It Fun
One of the first things we need to do is change the stigma associated with running. We need to make running fun. Finding games that are running-based is a sneaky way to get kids into running. Games like tag and "Red Light, Green Light" are a great way to introduce running in a fun, exciting way. 
Team Up
Find a friend or group for your kid to run with. Relays are a great way for the kids to help push each other and pass the time. Make up different relays and keep track of records. Vary the distances and games to keep it interesting. Running in a team atmosphere helps kids push more than they would push themselves if they were running alone. Studies show kids will work harder for the group than for themselves.
Log It
Keep track of what they did and how they did. This makes it fun to look back and see personal improvement. Not only will they be able to see all the work they've done, but they'll also be able to see how much they're improving. 
Join In
Don't be afraid to join in the fun. Make it a family affair. Kids love it when their parents join them. We can't hop on the soccer field or basketball court during a game, but a on run or in a race? Those are easy. By being there for them and supportive their efforts, we can help solidify the chances that our kids will see healthy activity as a lifelong lifestyle. 
Be a Tourist
Find a race or place to run that's new. Even being a tourist in your own town is an excellent way to get your kids excited about where running can take them. Races like color runs or 5Ks at places like Six Flags or the zoo are so much fun for children. Find a race to enjoy as a family and make a day out of it. What better way to explore?
Kickstarters

The Fleet Feet Kickstarters program is designed to introduce children ages 5 to 12 to a lifelong love of running. Our 6-week, non-competitive, "open track" program gives kids the opportunity to experience running in a fun, friendly, and safe environment. Participants will learn good form, build strength and endurance, make friends, and experience how improvement is the result of consistent effort.
We all want to have healthy, happy kids. The evidence for how much healthy lifestyles improve our children's mental, emotional, social, and physical health is mountainous. Get your kids started on the right path and change the health trends. Give your kids the gift of running.
Learn More About Kickstarters »
Good Luck and Happy Racing!
Coach Cary
---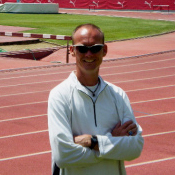 Tim Cary is FLEET FEET's Assistant Training Manager, coach of the FLEET FEET-sponsored Runnababez Elite team, and manager of the FLEET FEET Racing Team.  Over his 20 years of coaching, Tim has coached athletes to three national team championships, five national individual championships, two national records, and numerous All-American and All-State honors.  Click here to receive Tim's weekly article via email.