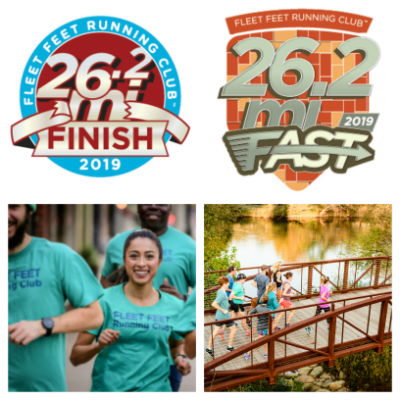 Completing a Full Marathon (26.2 miles) is a life-changing event.  A marathon finisher's medal is a symbol of dedication, hard work, and the accomplishment of a challenging goal.  Participants in our 16-week marathon training program benefit from our professional head coaches, experienced mentors, well-managed group runs on the St. Louis area's best paths, access to an extensive lineup of health care professionals, and informational clinics on nutrition, hydration, gear, injury prevention, stretching techniques, and more.
Testimonials
"My first marathon training program with Fleet Feet won't be my last!" – L.R.
"I'm happy, I'm healthy, and today I ran farther than I ever dreamed possible.  No marathon training is complete without Fleet Feet." – J.F.
"To the excellent Fleet Feet coaches who all helped me achieve something that just four months ago I wasn't sure was possible. I want to say THANK YOU!" – M.K.
"Just wanted to give a little shout out to the amazing Fleet Feet family and my awesome pace coach! I PR'd on my marathon today, and all the support meant so much!" – L.K.
"I thought qualifying for Boston was an elusive dream until I started training with the Advanced Fleet Feet marathon group. Now it is a reality! Thanks Fleet Feet." – J.L.
I started my journey with Fleet Feet after searching for help running my first Boston Marathon.  They pushed my body further than I ever dreamed possible at age 49 and I'm only getting faster! Thanks, Fleet Feet!" – M.S.