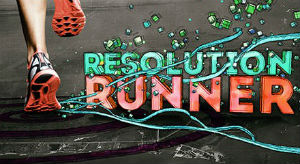 Every year when the New Year dawns, gyms and trails around the land welcome the emergence of the Resolutioner. It is an annual pilgrimage as steady and constant as the swallows to Capistrano. New Year's resolutions are the lottery ticket of the fitness world. They are our opportunity to dream of what could be. 
But there is one key difference between a resolution and the lottery: we have a say in whether or not our fitness dreams come true. Unfortunately, the rate of success in the lottery and in keeping our resolutions is a bit too close. As our resolution excitement wanes, we begin to miss workouts here and there, we slip into our old poor fitness habits, and eventually, we hit the failed resolution doldrums. 
But have no fear! While the odds of winning the Powerball are 1 in 292.2 million, the ability to develop into the runners/walkers we aspire to be is not based on chance. 
Many of us take the "Ready! Fire! Aim!" approach to our resolutions. We have motivation, but little direction. But by utilizing the following tips and tricks, you can establish both direction and focus and set yourself on the right path to success. 
Forget the Past | The past has passed. We spend so much time looking back at former accomplishments or failures, they serve as fuel to sabotage our current efforts. Don't trip over the stone that's behind you. Imagine your goals as a ladder. You must focus on the next rung on the ladder and climb from there. Where you were before has no bearing on now or on where you will go from here. Let the past go and focus on climbing towards a bright, shiny new future. 
Don't Overthink It | Often, we are our own biggest hurdles. We could accomplish much more if we would just get out of our own way. It's easy to dream about what we want to become, but it's much tougher to start taking the steps to get there. There is no perfect time to get started. You will always have a reason to hesitate, delay, or hold back. So, start now. Don't bother waiting for the perfect start time. It doesn't exist. Take a leap of faith. As the saying goes, the journey of a thousand miles begins with a single step. 
Join A Group | We are stronger as groups than as individuals. Sport psychology has proven time and again that groups are more likely to achieve success than individuals left on their own. Support and accountability are powerful forces that keep us on track. Training is tough, full of ups and downs. Even if we can struggle through them on our own, we can handle the ebbs and flows more effectively when we have a others with us. To that end, you won't find a better training program or group than those offered by Fleet Feet. With both 5k and half marathon training programs starting up in January, we've got you covered. 
Sign Up For A Race | One of the best ways to seal the deal in terms of committing to your goals is to sign up for a race. It's as close to a contract as a runner or walker can get. It holds us accountable. We have to train if we want to cross the finish line and enjoy the experience. What excites you to run? Look for a distance, even, or location that will inspire or challenge you. Then, put it on the calendar. Setting the day in stone (or on iCal) will help keep you on task. 
Give Back | Doing something for yourself is awesome, but doing something for someone else can be even more rewarding. Running for a charity can help keep you focused while training: no matter how hard we have it, someone else has it harder. Our half and full marathon training partnership with St. Jude Children's Research Hospital helps power our team members through training and keeps racing in perspective. 
Treat Yourself | Set yourself up for success. Too often we fail to invest in the equipment or groups we need to be successful. Get the gear and tools you need to effectively achieve your resolution. Not only does the right equipment help keep you healthy and the right groups help keep you on track, but a financial investment works as a motivating factor. So treat yourself to the tools and training you'll need to be successful. 
The path from Resolutioner to Runner can be meandering and fraught with pitfalls and detours. But by following the tips above, you can win your own fitness lottery and become the runner you want to be. We look forward to helping you reach those goals.
---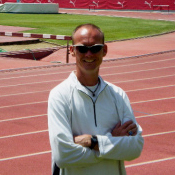 Tim Cary is Fleet Feet's Assistant Training Manager and coach of the Fleet Feet-sponsored Runnababez Elite team.  Over his more than two decades of coaching, Tim has coached athletes to three national team championships, five national individual championships, two national records, and numerous All-American and All-State honors.  Click here to receive Tim's weekly article via email.