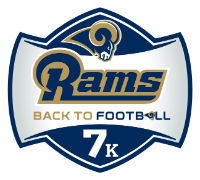 The St. Louis Rams, Competitor Group, Inc. and FLEET FEET Sports are excited to announce the creation of a new 7K (4.3 mile) running event to kickoff the 2012 NFL season.  The race will take place on Sunday, September 9.  A portion of the proceeds from the run will benefit the American Cancer Society's Hope Lodge. 
"We're excited to introduce this inaugural event as we celebrate the kickoff of the 2012 NFL regular season," said Brian Killingsworth, Vice President of Marketing and Brand Strategy for the St. Louis Rams.  "The 7K will allow us to engage our fans, promote health and wellness and benefit a tremendous charity.  We're looking forward to a successful event for the St. Louis community." 
The race will finish inside the Edward Jones Dome at the 50 yard line.  Each race participant will receive a ticket to one of three Rams games of their choice including: the Washington Redskins on Sept. 16, the Seattle Seahawks on Sept. 30, or the Arizona Cardinals on Oct. 4. All participants will also receive a "Rams 7K" technical running shirt as well as the opportunity to purchase additional Rams game tickets at an exclusive discounted rate. The event will also include a NFL 'Play 60' half mile fun run for kids.
"This partnership with the St. Louis Rams will unite both runners and football fans, and we look forward to welcoming participants of all abilities," said Scott Dickey, CEO of CGI, which locally operates the TASK Rock 'n' Roll St. Louis Marathon & ½ Marathon presented by the Quinn Family Charitable Fund. "This new 7K will help further root fans with their favorite football team and get them involved in an active way to celebrate the official start of the 2012 NFL season in September."
Let's show the NFL that St. Louis supports our Rams!  Register today at http://www.nflrunseries.com/rams/.  For $60, you'll experience a great race that finishes inside the Dome on the 50 yard line, receive a Nike Dri-Fit tee sporting the Rams logo, and get a ticket to a Rams game.