Racing Team: 2011 Awards Party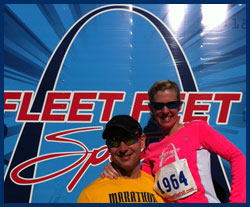 The FLEET FEET Racing Team celebrated a great 2011 and honored special members at last week's 2011 Awards Party. After a group run in Chesterfield Valley, Racing Team members headed to East Coast Pizza for the awards ceremony and details on the upcoming 2012 season. The biggest change for 2012 is the elimination of gender-specific divisions. Male and female racing team members will now be competing against each other for top honors!

As always, you don't need to be speedy to join the FLEET FEET Racing Team. We have awesome racing team events for all team members, such as post-race tailgate parties and recovery zones. (Just look for the FLEET FEET bus!) All abilities, ages, and experience levels are welcome to join our team. Simply race in a FLEET FEET top and submit your race results online to become a team member. Yep. It's that easy. We look forward to seeing you, and here's to an awesome 2012!