When I was writing my second book, Powered By Hope: The Teri Griege Story, I spent countless hours with Teri, a recovering addict, cancer-fighter, and Ironman triathlete who competed in the Ironman World Championship while battling stage IV colon cancer. Over the course of eighteen months, I showed up to so many intimate events—from family dinners to a nine-day Hawaii vacation—Teri's husband, Dave, nicknamed me "The Crasher." During more formal interviews, I'd arrive with my laptop and recorder and make camp in Teri and Dave's kitchen. Other times, I'd just follow Teri around—to the hospital for her chemo treatments, to the store, to charity events—pen and notepad in hand, which seems more creepy in retrospect than it did at the time. And, admittedly, it seemed kinda creepy at the time. 
Usually, familiarity is the enemy of wonder. But even after all the time we spent together during the book process—and the years since—I am struck by Teri's thankfulness despite very difficult circumstances. Teri is deliberately grateful. She has made more than a habit of gratitude. She has made an art of it. 
In the book, Teri chronicles her relationship with gratitude. Not coincidentally, her experience with daily, intentional gratefulness works in symbiosis with training and racing as an endurance athlete. As she described finishing her first full Ironman:  
Completing an Ironman was something I had wanted to do for a long time. I was so grateful to be out there every single minute of every single mile. When I crossed that finish line, all I could think was, "How cool is this? How cool is it to be able to do this?" 
Later, during some of the darkest times of her cancer treatment, she remained grateful through simple, conscious efforts: 
Every day I think, "This will be the last beautiful day," she wrote in her journal. Not a very good attitude. How quick that attitude of gratitude slips away, and the negative thinking seeps in!! Well, I said each day I would list some things I am grateful for—so here it goes. Hearing: I got to listen to Kati [her daughter] read a story she had written for school. It was awesome—great job KatiLouLou!! Hair: I still have mine and today I was able to have it cut and colored. Thanks, Gwen! 
And again, after a low white blood cell count temporarily derailed her treatment: 
But despite setbacks, I knew I had to stay positive. I pushed through the difficult days and basked in the moments when the wind was at my back, firmly believing that every struggle would be counterbalanced by reward. Cancer increased my ?awareness of the present, and I found myself delighting in what before I took for granted. Every day I found new things for which to be grateful. Every day I found that being thankful made me strong. 
The doctors and nurses at Barnes-Jewish Hospital didn't know what to think of Teri. They were dumbfounded by the amount of training she was able to maintain while undergoing chemotherapy and radiation. I was just as amazed. I know how motivation wanes when I am tired from a stressful day of work, or how difficult it is to push through a workout when my stomach is upset. Yet, Teri was able to knock out 20-mile runs and 100-mile bike rides despite fatigue, nausea, neuropathy, and the emotional hell of stage IV colon cancer. 
I once asked Teri how she handled the pain—if she ever hurt so badly she wanted to give up, in training or in a race. She responded, "I guess. I don't know. I don't let myself go there. I can't let myself go there. I have so much to be grateful for. I just focus on that. I can't focus on the pain." 
Despite the tendency of the sports world to romanticize the troubled athlete's passion, the transference of off-the-field discontent to aggression and intensity on the field of play, an increasing number of studies are revealing that joy—not anger—is the most powerful driving force in athletic performance. This is more than the clichéd "power of positive thinking." In fact, you could say that gratitude, if not the opposite of the positive-thinking approach, is at least unrelated to it. Simple positive thinking translates into little more than a wish list of possible events. Simple positive thinking is contingent on circumstances or changing those circumstances. It is about what we want. Simple positive thinking exists in the future tense. 
Gratitude, however, is based on what is. It is based on fact, independent of current circumstances. It is about what we have. Gratitude exists in the present tense. 
Over the years, I've had the opportunity to interview some incredible athletes, from Ryan Hall and Catherine Ndereba to Chrissie Wellington and Dean Karnazes. Hall is the fastest American marathoner in history. Ndereba won two Olympic silver medals in the marathon and is a four-time Boston Marathon champion and former world record holder. Wellington won the Ironman World Championship four times. And Karnazes has run races that stretch out over 250 miles. At some point in each of the conversations, the question of pain—the demands of training, the setbacks of injuries, the agony of racing—surfaced. How? I asked them. How did they push beyond their limits? 
They responded, in one form or another, with the same answer Teri gave me as she sat in the treatment room of the Siteman Cancer Center, a bag of chemo pumping poison into her body two weeks before her big race in Kona: gratitude. Gratitude for the day. For the sun. For the road. For every breath. For the people cheering. For the ability to run in the first place.
Gratitude takes practice. It takes intention. It doesn't guarantee victory or a PR, because gratitude is unrelated to the future. But it does give us strength for the moment, and in the throes of agony that racing inevitably brings, isn't that all we need? 
Before your next race, find something for which you are grateful—big, small, related to running or not—and cling to it. Remember it. Delight in it. And consider it a tip from the pros. And Teri.
---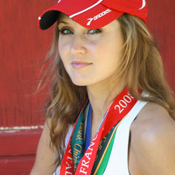 Amy L. Marxkors is the author of The Lola Papers: Marathons, Misadventures, and How I Became a Serious Runner and Powered By Hope: The Teri Griege Story.  Click here to receive Amy's weekly article via email.