photos by GLENNMADE STUDIOS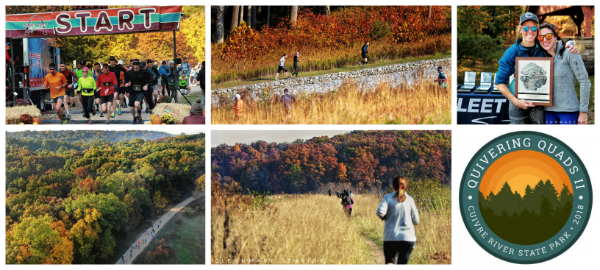 Congratulations to all who completed this past weekend's 4th annual Quivering Quads II trail race!  The weather was picture-perfect for 8.1 miles of running on the mostly single-track trails within Cuivre River State Park.  Great swag, a pumpkin decorating contest, an awesome post-race BBQ, and the all-around relaxed vibe added to the fun.
This year's race sold out all 525 entry spots, making it the most competitive QQII, yet.  Andy Hicks, the 3rd place finisher in 2016 and 2017, won this year's race in a time of 55:09.  John Cash and Michael Southworth were the other two podium finishers.  Fleet Feet massage therapist Hannah Floyd won the women's race in a time of 1:04:07.  Theresa Coverick and Amanda Knabach were next across the finish line.  Click here for complete results.
Race Director Jules Vogel is greatly thankful for the Fleet Feet Race Productions team (Chris, Hannah, Kylee, Jake, and JR) , for the many, terrific volunteers and Fleet Feet employees who helped bring QQII to life, for iTap, who provided the beer for the post-race party, and to Cuivre River State Park's Rangers, who provided logistical assistance, including making sure the trails were in great shape!
Next year will be the 5th anniversary of Quivering Quads II.  Save the date of Saturday, October 26th, 2019, and follow us on Facebook, Twitter or Instagram for race announcements!  Before then, however, we have some great opportunities for you to race with us, including some great trail options.  Come race with us!
 Turkey Trot STL | TTSTL is a St. Louis Thanksgiving morning tradition.  Join us at one of four locations and run/walk the 5K and/or watch the kids run the free 1/2-mile kids run.   The atmosphere is family-friendly, the swag is great, and the price is right!
Snowball Series | Stay motivated this winter by running one - or all five - of our five Snowball Series road races.
Bootlegger 10K Trail Race | Join us on February 17th, 2019, for this 2nd annual event, held in the upper portion of Creve Coeur Lake Park.  Registration is limited to the first 500 participants and will open in mid-November. The 2018 event sold out quickly, so stay tuned for the registration open announcement!

Quivering Quads 13.1M & 50K Trail Race | The 20th edition of the original Quivering Quads trail race will be held on March 3rd, 2019.  In celebration, we are bringing back an original race distance, the 50K. This year's event will feature a completely new half marathon course and both courses will feature incredible Ozark bluff views along the course. Half marathon registration will be limited to 500 and the 50K will be limited to 100. Stay tuned for the registration announcement coming in mid-November!
And if you're looking for a fun way to best prepare yourself for Bootlegger or QQ, our 10K Rock Runners program will prepare you for the Bootlegger Trail 10K, 13.1M Rock Runners program will prepare you for the QQ half marathon, and our Distance Project program will get you ready for the QQ 50K.  Come run with us!