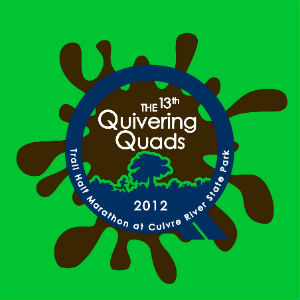 The 13th Quivering Quads Trail Half Marathon was held this past Sunday on the trails of Troy, Missouri's beautiful Cuivre River State Park.  Because last year's course was quite muddy after much rain the day before the race, we chose "mud" as our theme for this year's race.  But because (1) the rain held off this year until most of the racers had finished and (2) the new course included some new trail sections that avoided some low-lying areas, the closest that many racers came to mud was the mud-splattered race logo on their t-shirt and finishers medal!
370 people completed the challenging course – and because of the new trail sections every one of them can claim a new personal course record!  Race winners Caleb Goldkamp of St. Louis and Maureen Selzler of Glen Carbon, IL now hold the overall course record titles.  Complete results and a photo gallery can be accessed here.  A link to photos of all participants taken by STLDigital will soon be added.
Volunteer support was provided in large part by members of the St. Louis Ultrarunners Group (aka, the SLUGs) and the FLEET FEET Runners Club.  If you enjoy running and socializing with like-minded people, please consider joining these great clubs.  And please support the Great Harvest Bread Company next to our St. Charles stores.  They provided the yummy carbo-re-loading rolls for the post-race party.