The anticipation and excitement that comes with signing up for a half or full marathon is awesome. We are full of vim and vigor and ready to tackle the training like Rocky Balboa. As we hurl ourselves headlong into our training, we are often faced with a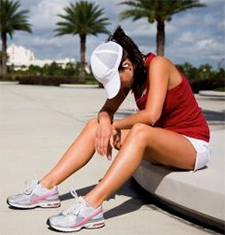 litany of responses from our body. Many (okay, most) are not what we were hoping for. But before we plummet too far down the rabbit hole of impending injury, let's exhibit a bit of prudence. 
Ignorance is not always bliss. Speeding into training like a crash-test dummy is a recipe for disaster. We need wiser tactics to steer clear of the hiccups and setbacks that waylay the hell-bent athlete. As the saying goes, "It's a marathon, not a sprint." We need to remember the endurance aspect of endurance sport as we develop a training plan. If we stack enough pieces of paper on top of each other, we can reach the moon. The most effective training programs are based on incremental "stacking." Building volume and intensity at the same time is a recipe for a short season and a long recovery (typically from injury). Use a bit of prudence and common sense when training. Do each day's session to the best of your ability. Heck, if the training calls for rest and recovery, then do your absolute best to rest and recover as much as possible that day. Success is about reaching the finish line on race day; it's not about your pace or mileage in July.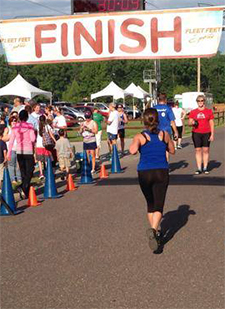 As Coach Bell at SLU said, they're not going to rearrange your place or time at the finish line based on how many miles you ran last week or how fast you ran them. We do not have to be—nor should we be—in a constant state of competition with ourselves. Easy days and short runs serve a purpose. That's when our bodies can adapt to an increasing workload, recover from workouts, and reset to run another day. We need to let our bodies adapt to the loads we're giving them. Stress-adapt, stress-adapt, stress-adapt. It's the only way to build an effective training program.
Unfortunately, our gung-ho personalities often have us plowing full steam ahead. Too often, instead of stress-adapt, our training looks like stress-stress-stress-BREAK. 
Not exactly the best way to have a successful fall race. 
The FLEET FEET Half and Full Marathon programs are scientifically based and proven for success. Make the prudent choice and protect you from yourself. You've invested in yourself and your dreams. The next step is to sign up for a program that will help you reach those goals. Let us be your wise counsel during training so you can crank out a performance when it counts. 
Good Luck and Happy Racing!
Coach Cary
---
Tim Cary is FLEET FEET's Assistant Training Manager, coach of the FLEET FEET-sponsored Runnababez Elite team, and manager of the FLEET FEET Racing Team.  Over his 20 years of coaching, Tim has coached athletes to three national team championships, five national individual championships, two national records, and numerous All-American and All-State honors.  Click here to receive Tim's weekly article via email.