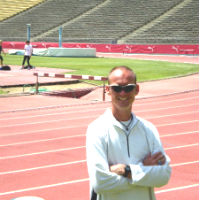 It was chilly for August. That, or maybe I just wasn't used to being up before the sun. Either way, my feet were cold and wet from stumbling around in the predawn, dew-covered grass for the past hour or so. As the sun started to transform the landscape from shadowy grays to gold, I was able to gaze out over the fields below. You could still see the fog hanging low in the valley, wrapping itself around the lone tree standing strong and resolute, an island in a sea of wispy white. Climbing its way out of this serene scene was one long, lone rope. One end of the rope was tied securely around the solid oak, and the other was attached to the basket I was in several hundred feet above.
The calm and docile scene below was the antithesis of the chaotic energy in the little basket. The pilot, shouting instructions to his crew below. His partner, hopping back and forth, constantly chattering away as if he had tried to drink Starbucks out of business that morning. And me, attempting to comprehend what was going on.
Just as sensory overload was setting in, Mr. Chipper stuck a video camera in my face and started asking me questions about the bedlam around me. I mumbled something witty in response. (Okay, maybe it was incoherent, but I believe I'm a lot funnier than I really am, so my answers had to be pure gold, right?)
Suddenly, one last blast of propane poured heat down on my head as the pilot commanded me to swing my feet over the edge of our little basket. As I climbed up and perched myself on the lip, I was surprised by the weight of the coiled rubber bands binding my ankles. Who knew a hundred feet of bungee cords weighed so much?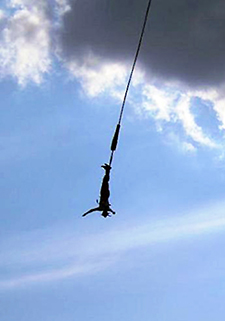 Before I could appreciate exactly what was going on, I heard the pilot and Mr. Chipper shout, "Three! Two! One! Bungeeeeee!" Their voices faded in the distance as I leapt out into the cool August air.
Throughout my years of coaching, I've come to realize just how analogous that morning was with life and running in general. (You know I couldn't just do an advice column and make it normal, right?) See if you see any parallels with your own world…
Ups and Downs
There are a lot of ups and downs in bungee jumping, but nothing compares to running. One minute we feel invincible, like we reign supreme over our body. The ground beneath our feet clips by effortlessly as if we were flying along. The next minute, we are dog tired and beaten down. It is as if the earth's gravitational pull is exuding some sort of amplified forces on our bodies only. As we go through this constant up and down cycle, it is easy to give in or give up. I always tell my athletes to worry only about what you can control. Trying to control those things that are out of our grasp only serves to frustrate us more.  Sometimes the best thing to do is just relax and ride it out until we get our feet back on the ground.
Leap of Faith
Remember that moment right before the start of your first race? The anticipation? The butterflies? Maybe just signing up for a training program or the challenge of a race forced you to make the leap. If you have ever had that dream to take up running—or sign up for a marathon or just get fitter—but were afraid to make the jump because you doubted your ability to succeed, go for it. FLEET FEET has a variety of programs that can help you accomplish those dreams. Remember, we can't change ourselves if we don't challenge ourselves. Heck, I jumped out of a perfectly good hot air balloon with only a rubber band around my ankle. Is your leap as scary as that?
Gotta Share
One thing I neglected to mention about the scene in the field below was a group of crazy ne'er-do-wells hooting and hollering at me. This band of misfits were my brothers. Not brothers by blood, but brothers by the bond that only years of training together can forge. Running and life can be a fun ride, but both are best appreciated with a great group of friends. Sharing that day with my buddies is something we all still wax nostalgic about. When you dare to dream, it's best to surround yourself with a group of like-minded people. Non-running friends will try to understand, but they just can't grasp running twelve miles before dawn or why Salted Caramel GU is so amazing. FLEET FEET Social Runs are a great place to commiserate with others that go through the same euphoric and catastrophic feelings you do during training.
Enjoy the Moment
When you reach the precipice of something you've anticipated for so long, don't forget to take it all in. Too often people miss out on the experience because they're caught up in the commotion of the event. Take a deep breath, look around, and appreciate the moment. I remember during one of my best races becoming almost dissociated with the pandemonium around me. My mind got very quiet and relaxed.  I began to notice the little things, like how cotton-mouthed I had become and that the guy I was racing for the win had spit flapping off his chin like a Saint Bernard hanging out a car window. I remember wondering how it would all turn out in the end, and that I couldn't wait to find out. Being able to relax and enjoy everything is what makes the whole event worth it.
You don't have to go bungee jumping to be a better runner. But just like a lot of aspects of life, anything we do that leaves a lasting impression can help us continue to conquer new and bigger challenges. My bungee jump may be your learning to swim or tackling your first 5K or singing karaoke. Each of us has that thing, that moment upon which we can look proudly and know that we stepped out of our comfort zone and succeeded. Taking the lessons we learn from those experiences and applying them to our running helps us enjoy a much more interesting and colorful life.
Good Luck and Happy Racing!
Coach Cary
---
Tim Cary is FLEET FEET's Assistant Training Manager, coach of the FLEET FEET-sponsored Runnababez Elite team, and manager of the FLEET FEET Racing Team.  Over his 20 years of coaching, Tim has coached athletes to three national team championships, five national individual championships, two national records, and numerous All-American and All-State honors.  Click here to receive Tim's weekly article via email.